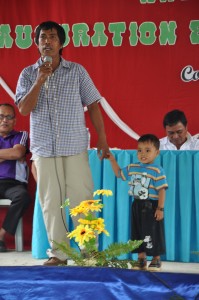 Surigao del Sur – Two far-flung villages situated 27 and 11 kilometers away from the Poblacion of Barobo, in this province, had inaugurated on April 7, 2014 their day care center projects which are implemented by community volunteers through the assistance of the Grassroots Participatory Budgeting Process (GPBP) and the Department of Social Welfare and Development (DSWD) Caraga.
Included in the seven (7) barangays identified for the 4.7 M worth GPBP projects in the municipality for 2013, Cabacungan and Causwagan were allotted with Php 700, 000.00 GPBP grant each and a total of Php 149, 460 local cash counterpart (LCC) to implement this DCC projects within March 2013 to February 2014 incorporating the social preparation stage applying the Community-Driven Development (CDD) approach.
Assistant Regional Director Mita G. Lim, also the Regional Project Manager, mentioned during the turn-over ceremony that the villages are blessed to have these infrastructure projects to suffice their needs of basic community services and to assist their compliance to one of the set conditionalities as beneficiaries of the Pantawid Pamilyang Pilipino Program.
"This is a project to address the gaps of the supply side for our Pantawid beneficiaries which is to send your children ages ranging from 2-4 years old to day care centers," said Lim.
There are a total of 385 households with 211 Pantawid program beneficiaries in the two barangays to benefit the projects.
"I am encouraging you to prepare and participate for the coming scaled-up anti-poverty project of DSWD which is the National Community-Driven Development Program (NCDDP) from which Barobo is identified to be a recipient. You must be united in this endeavor and opportunity and coordinate with your local government, for you to be able to enjoy another CDD project." she added.
Paul Parajes, regional focal person for GPBP projects, also congratulated the community people for successfully implementing the 1.4 M worth projects.
"In 2013, Caraga region has implemented a total of 133 GPBP projects with a total allocation of 74.3 M, included those facilitated by the Sustainable Livelihood Program (SLP) and the Protective Services Unit (PSU)," added Parajes.
Provincial Social Welfare and Development Officer (PSWDO) May Navidad Salinas also lauded the villagers about their successful implementation of the project.  "Kani nga prohekto nagpamatuod nga nindot ang mahimo kung adunay pagtinambayayong sa gobyerno ug sa katawhan (This project proves that there is a productive output when unity between the government and the citizenry is present), said Salinas.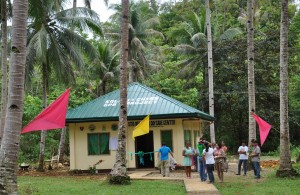 Honorable Vice Mayor Joey S. Pama expressed his excitement about this completed project by and for the community. He encouraged the villagers to be united in sustaining the project as it is a rare opportunity to acquire it. "Kita nga mga katawhan malipayon nga bisan sa kalayo sa inyong barangay, nga kinahanglan pa musakay ug habal-habal ug muagi sa lubak-lubak nga dalan aron maadtoan, nahimo nga maka-benepisyo aning proyekto sa GPBP ug sa DSWD (You must be thankful that even though your barangay is very far and one needs to ride a habal-habal and trudge a rocky and bumpy road, you were still able to benefit this kind of project from DSWD and GPBP), added Pama.
Community residents were also very grateful to finally have these day care centers realized. "Mapasalamaton jud kami nga nia na jud ning day care nga duol na sa among sitio, dili na jud magbaktas among mga gagmay nga bata ug duhag tunga ka-kilometro para lang mu-skwela (We are really thankful that finally we now have the day care center that is near our sitio; our kids will not have to walk 2.5 kilometers just to go to school), said  , Project Implementation Team (PIT) chairperson and a parent of Sitio New Bug-o in Causwagan.
"Salamat nga bisan layo kaayo ni among barangay niabot gihapon ang tabang sa DSWD sa amoa; naa na jud nindot ug lig-on nga day care amo mga kabataan (Thank you that even though our barangay is very far, this DSWD project reached our village; there is now a beautiful and resilient day care for our children), emotionally shared by Elvi Rivas, Barangay Project Management Committee (BPMC) chairperson and a parent in Cabacungan.
Kalahi-CIDSS, to scale up into NCDDP, is a multi-funded anti-poverty project of the DSWD which aims to empower communities, improve local governance and reduce poverty. Having parallel goals of the latter, GPBP is an approach of project implementation through the converged efforts and decision-making among the national and local government, and the civil society organizations, highlighting those at the grassroots sector. ### (Eunice G. Montaos/ Social Marketing Unit/DSWD Field Office Caraga)