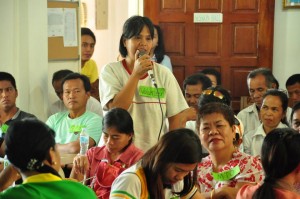 Clothed with a simple shirt, pinned with a green colored paper printed with the word volunteer, nobody bothered as she stands. But when she spoke, she captured both the eyes and ears of those around.
The beauty of CDD
Confident and opinionated, Precila M. Cabillo, 47, speaks fluently and adeptly about the process of the Community-Driven Development (CDD) approach of the Kapit-Bisig Laban sa Kahirapan- Comprehensive and Integrated Delivery of Social Services (Kalahi-CIDSS) during the focus group discussion conducted by the World Bank team in their 12th implementation support mission last September 2013. Her well-organized words didn't sound like a volunteer's testimonial sharing but rather it sounded like a teacher educating her students and even like a resource person speaking in a seminar.
The locality was identified by the Regional Project Management Office (RPMO) to be visited by the World Bank team because of the remarkable and noteworthy performance and response of the community volunteers in the said place. In the ten (10) year walk of Kalahi-CIDSS in the region, the municipality hasn't experienced being its recipient and it was only during the implementation of the Grassroots Participatory Budgeting Process (GPBP), formerly Bottom-Up-Budgeting, that it was included.
"Ang Barangay Project Management Committee (BPMC) sa Javier namugna kini pinaagi sa mga asembliya nga gitambungan sa katawhan sa mga barangay sugod atong March 2013 (The BPMC in Javier was created through the series of assemblies attended by the residents in the barangay)," shares Precila. "Gikan sa sugod, dili lang isa ka binuhat ang nag-desisyon kundi ang kadaghanan miapil sa pag-ila unsa gyud ang dakong gikinahanglan sa komunidad (Even from the start, not only one decided, but most villagers joined in identifying what is really the need of the community as a whole), she added.
Precila's active involvement and her strong grasp of the CDD process, together with her fellow volunteers, were quite surprising for a first-timer municipality to be a recipient of a Kalahi-CIDSS-facilitated project implementation. When asked why, she said that most villagers got interested with this new system of realizing projects which provides them an avenue for participation in community-level decision-making even though they are from the grassroots. According to her, studying and familiarizing the whole Community Empowerment Activity Cycle (CEAC) process isn't that easy a task to do, but worthy of appreciation. With the obvious interest these volunteers have shown, they were able to easily cope with this new approach of development.
"Ang kalami sa proseso sa Kalahi kay ang paghatag ug usa ka butang nga dili gyud kabayran ug sure jud nga magpabilin, mao kana ang kahibalo (The very thing that makes the process of Kalahi as very nice is giving something that cannot be bought by money and something that will surely stay, that is, knowledge), she commented.
"We will be trained first before we implement projects. All the volunteers join the trainings. The importance of capability building to the volunteers and the significance of participatory approach are the highlights of CDD." Precila added.
"There are a lot of people in the grassroots who are very capable and skillful, but because of poverty situation, they weren't given opportunities," she confessed. According to her, this is one very reason, why in spite of all the hardships and sacrifices a volunteer may encounter, yet, still she pursued being one.
A well-deserved nomination
A believer in the importance of education, she graduated college through being a working student. She also experienced being a community organizer for some Indigenous People (IP) in a non-government organization (NGO). These were the things she thought were the reasons why she was voted by her fellow volunteers to be the Barangay Project Management Committee (BPMC) chairperson.
"Abtik man gud siya ug naa jud siya potensyal nga mahimong lider (She is active and she really has a potential to become a leader)," says Maritez L. Delos Santos, one of the volunteers in Javier. "Dili baya lalim mahimo pud nga lider, kinahanglan jud nga kusgan ug naa experience aron ang mga sumusunod, musunod jud (It's not that easy to be a leader, one needs to be strong and well-experienced for the subordinates to follow)" she added.
The active and inspired community villagers in Javier had united and cooperated to pursue the implementation of the day care center project. "Kinahanglan man jud namo ang daycare kay ang amoa ginagamit sa una kay gubaon na ug duol pa jud sa kalsada. Kinahanglan na jud siya alisdan kay basin mangaunsa pa nuon ang among mga gagmayng bata (We badly need a daycare center because the one that we had been using is already wrecked and almost destroyed and it is located near the road. It really needs to be replaced because the safety of our children is at stake)." said Sarah A. Madelo, Project Implementation Team (PIT) chairperson, who is also a mother of one of the pupils who will use the said infrastructure.
With the immediate need of this kind of infrastructure in their village, motivated and compassionate Precila did all her best to help in addressing this predicament. Even though she doesn't have a child to benefit a learning classroom, however, she empathized with her neighbors in Javier. "Wala man ko anak, pero nakasabot ko sa gibati sa mga ginikanan nga gusto pud nila ampingan ilang mga anak. (I don't have a child but I understand what these mothers in the neighborhood feel; they want to protect their children)" she shared.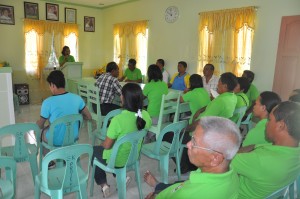 Genuine motivation
Her sincerity and heartfelt testimony being a volunteer were appreciated by those who heard. They were elated meeting a volunteer who wholeheartedly understood the Project and its objectives.
It was in October 2013 that she decided to represent the grassroots sector in the barangay local government unit in Javier. It was the idea of having some voices from the grassroots to be heard in the barangay council that inspired her to run as a councilor. This decision was even supported by her husband, an OFW in Singapore. Since it was her first time to run in the barangay elections, she didn't assume and expect to win, but eventually she won.
Those were the days that the construction of the day care center project was about to start after the series of trainings undergone by the volunteers. Since she was already elected as a barangay official, they identified Allan Adlawan, another active and supportive volunteer, to take over the BPMC chairperson position.
"Naglisod ko sa sugod kay nipuli ra ko ni Madam Precila, pero ni-suporta ra man gihapon siya sa amoa (It was hard for me at first because I only replaced Madam Precila, but she remained supportive to us), said Adlawan.
Despite holding another responsibility as a council member, still, Precila maintains her backing and enthusiasm about the project. She said that she committed to help realize this day care center, and so, despite the adjustments of responsibilities, she considers its completion a priority. In her free time, she manages to sit with the BPMC meetings and monitoring schedules.
"Bisan dili na ako ang BPMC, pero volunteer ra gihapon ko ug nagpabilin nga lumulupyo sa Javier (I may not be anymore the BPMC, but I am still a volunteer and I remain a resident of Javier), she strongly stated. "Ang akong mga nakat-unan sa training akoa gihapon gina-share sa ilaha (I shared my learnings from the trainings and provided technical assistance to them)," she included.
Accomplished in unity
When this Php 774,058.00 (including both the GPBP grant and LCC) worth project was finally accomplished on January 29, 2014, she was very joyful, together with the residents, upon seeing the well-furnished day care center with colorful facilities inside. The pupils were very excited seeing their new classroom, far-improved than what they usually use, and appears to be very conducive in their learning process.
"Magtudlo-tudlo na gani akong anak nga dira daw siya mag-school kay nindot daw (My child is even pointing the building while saying that he wants to study in there)," shares Sarah, PIT chairperson.
Precila, including her fellow volunteers who hand-in-hand went through complicated and strict process of Kalahi-CIDSS, considers this a great accomplishment. "Every individual who took part in the Project's completion feels proud and fulfilled. They finally behold themselves the output of their unending assemblies, over time meetings, unlimited paper works, adventurous procurements, and etc." she deduced. This infrastructure is pursued to benefit the 380 households in Javier with 257 household beneficiaries of the Pantawid Pamilyang Pilipino Program.
"The solution of some of our poverty problems is within the community, we just need to be facilitated. Bayanihan spirit is something that is innate in every Filipino's heart. But you only have to awaken that. One good thing is that not only is the Bayanihan spirit present in the target communities, but this project is a mirror of the unity of the residents, the local government unit, and the national government," Precila concluded. ###(Eunice G. Montaos/Social Marketing Unit/DSWD Field Office Caraga)