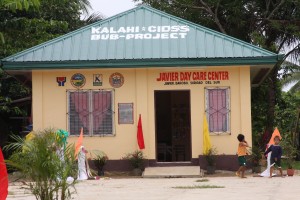 Javier, Barobo, Surigao del Sur –  " Let's engage ourselves more. Let us intensify more and further to the resources available."
This was the message conveyed by Regional Director Minda Brigoli as she underscored the collaborative efforts of the Local Gov't. Unit (LGU), Brgy. Local Gov't. Unit  (BLGU), Civil Society Organizations( CSO), Community Volunteers and DSWD Caraga field workers for the completion of the Javier Day Care Center during the Inauguration and Blessing  Ceremony of the Construction of 1 Unit Day Care Center  worth Php 774, 058.00 on April 8, 2014 at Brgy. Javier, Barobo, Surigao del Sur.
RD Brigoli stressed out the importance of collective efforts to ensure the success of every undertaking.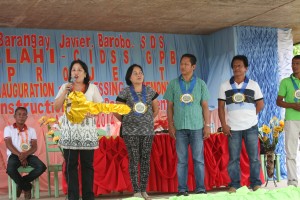 She said that the project is only a strategy used by the Department in organizing the community while the latter is focused more on the people. She further challenged the village people to endure the unanimity, involvement, cohesiveness they have developed.
The former BPMC Chairperson and now barangay council Hon. Percila M. Caballo expressed her gratitude for the kind of project given in their barangay. She quipped that the said inauguration can be considered a milestone in the lives of their barangay more so in the field of education.
" This challenge is entrusted upon us, we must endeavour to promote accountability, participatory, and transparency in achieving unity, peace, and progress," she added.
Brgy. Council Elviso Gupana thanked and commended the implementation of the GPB Project formerly BUB in their barangay.
"Lahi gayud ang pamaagi sa implementasyon sa among GPB project  kay ang Community Volunteers gihatagn kagahum sa pag implementar sa project. Aduna pud koordinasyon ug pagpahibalo sa kumonidad or barangay officials pinaagi sa barangay asimbliya. Maau unta na ang tanan project diha na lang e – download sa DSWD gamit ang KALAHI – CIDSS nga proseso kay mahuman gyod ang among project dayun nga maau og kumpleto. ( GPB has a different way of its implementation for it's the Community Volunteers who were vested with authority to implement the project. There was coordination and information dissemination to the community and barangay officials in the barangay assembly. I fervently hope that all projects of the government will be downloaded in DSWD using KALAHI – CIDSS by then all projects will surely be completed and implemented.)
BPMC Chairperson, Allan Adlawon mentioned, " Dakong pressure na akong nasinatian apan daku usab ang akong kalipay tungod kay nadugangan ang akong kahibalo sa Engineering kay sige manko mag monitor sa maong pagtrabaho ug nakakat – on pud ako kung unsaon pag preside sa meting." ( I had experienced great pressure however I feel elated for the additional inputs and knowledge gained especially in the field of Engineering for I often did the monitoring during the construction. And also I learned how to conduct and preside a meeting.)
Barobo Vice Mayor Joey S. Pama, congratulated the people for doing their part with exemplary.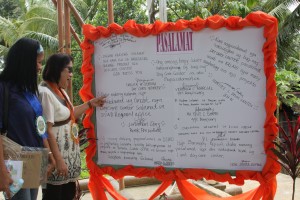 The event was witnessed by PSWDO Mae Navidad – Salinas, MSWDO Marilou Godito, Javier town social welfare workers, municipal and brgy. officials, and Brgy. Javier residents. ### (TDB/ Social Marketing)