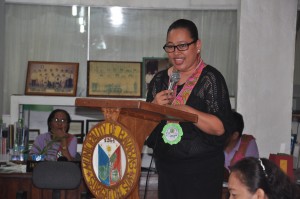 It could be a mere luck, fate or blessing, but I am a self-proclaimed proud Kapit-Bisig Laban sa Kahirapan- Comprehensive and Integrated Delivery of Social Services (Kalahi-CIDSS) baby in public service.I started, and journeyed along with the Project and the Community-Driven Development (CDD) approaches and principles that it taught. I can say, I have grown here- the Kalahi way, as they call it.
The municipality of Bayabas has been very fortunate to be a regular recipient of Kalahi-CIDSS since year 2006 until year 2012.
In 2006 to 2009, these composed the cycles 1, 2, and 3 of Kalahi-CIDSS:KKB while in 2011 to 2012, the Kalahi-CIDSS:Makamasang Tugon.
Coincidentally, it was during my second term as Sangguniang Bayan member when Kalahi-CIDSS, thru CDD, came to Bayabas, and gradually, little by little, into the hearts and minds of its people. Kasama ako doon (I am also included there).
There were even instances that I had to firmly stand and fight for the Project because I was there during its very first orientation and identification of poor municipalities which were the top priority of the program. If I remembered right, Bayabas was ranked second, if not third poorest municipalities of Surigao del Sur during the implementation.
For a municipality to be identified as potential recipient of this Project, one should take note, again, that it doesn't mean anything more- than it is because we are poor, and that we need help. And while we need help, we do not just get it all served readily in a silver platter. Ug kadaghan an mga katawhan gikan sa mga kabaranggayan hibawo nan ini (And many of the people especially those from the barangays know about this). As we say, dumadaan tayo sa butas ng karayom (we cross in a hole of a needle).
Pobre (Poor), not because of human resources or natural resources, but because of technical and financial inadequacies. Dili igo na abot, dili igo na pondo, dili igo na panalapi para makamugna o establisar nan mga infrastructure projects na makatubag sa mga panginahanglan nan komunidad (Not enough income, not enough funds, not enough financial resources to build or establish infrastructure projects that will answer the needs of the community)- like education, water, disaster risk reduction and mitigation infrastructures, economic and livelihood needs, and others.
This local government unit has faced diverse struggles and trials as we walked through the journey of Kalahi-CIDSS. We experienced financial limitations, hesitance of both the community and government and some stakeholders, resistance to getting involved, defiance to new processes, to development, and to change, and even uncertainties and doubts and dilemmas on whether we are just wasting money or not. Worst is the fact when we came to a point of considering change of priorities. However, we endured. We pursued. We stood and withered the storms. And with that, we give high regard and credits to the officials who persevered.
Kay kung wala pa kami nagmadaugon (Because if we hadn't been victorious), we could have missed the opportunity to have the first eight (8) sub-projects realized. Those were the classroom buildings, pump-driven potable water system, day care center, and box culvert double channel.
The process of implementation manifested the significant changes that happened within the three cycles. At first, the motto was, "We do it, you watch". Next it was, "We do it together". Then, it evolved into, "You do it, we coach".
Despite the challenges, deficiencies and other obstacles which are considered part of the Kalahi ride, we are so grateful to DSWD, because there was no sign of turning back. After completing the three cycles, we were again given another opportunity to be part of the Kalahi-CIDSS:MT.
We were again challenged with fund insufficiency, but there was no way to surrender. Our LGU had no recourse but sought support from the Provincial Government from which our very supportive governor, Hon. Johnny Pimentel willingly made available the Php200, 000 to complete the lacking cash counterpart. Everybody had made both ends met by re-prioritizing and re-aligning funds through what seemed to be an endless consultative meeting and special sessions.
In brief, we have all seven (7) barangays covered with sub-projects addressing negative conditions with education facilities for day care, elementary and secondary children, potable and safe water supply, disaster risk reduction and mitigation, and economic development.
Kalahi-CIDSS and the CDD successfully gained the hearts and trust of the many residents in this small land of Bayabas. It became not only our job to get involved with, but it already became our choice.
Barangay assemblies or purok approach, consultative meetings, project orientations, participatory situational analysis, capability building and enhancement trainings on how to do this and how to do that, unending paper works, targets and deadlines, inventory and audit , validations, monitoring and evaluations- these are the key words on how palpable to the grassroots the process of CDD is.
The Project is like a grand concerto where everyone has his own piece or act. Sa ngadto-ngadto nadiskubre sa daghan nga tatay nga dili lang diay sila kutob ra sa ka maayo mag panday, magtrabaho sa uma, ug mangisda. (Many fathers discovered that they are not only skilled in carpentry, farming and fishing).  Daghan usab mga nanay ang naka-diskubre nga dili ra sila kutob sa kahanas mag-atiman sa mga bata ug tibuok pamilya, magluto ug maglaba (Many mothers discovered that they are not only for taking care of the family, cooking and washing). They realized that they are not only part of a household but of the whole community as it grows.
With CDD, we get to value the essence of volunteerism, and we get to highlight empowerment. The different stakeholders are witnesses and actors to this community-owned development kay sila mismo ang maghisgot ug mo-desisyon unsa ang panginahanglan sa ilang komunidad, ug sila usab mismo ang kauban sa paglihok aron matubag kini nga mga panginahanglan (because they are the ones who will articulate and decide what are the needs of their community, and they will be the ones to work and implement to address these needs).
It is my personal viewpoint, and those empowered ones will surely agree, that Kalahi-CIDSS CDD creates community, while it builds people.
With this beautiful experience provided by the Project, I am reminded of this quote by Marcel Proust, "The real voyage of discovery consists not in seeking new lands, but in seeing with new eyes".
By: Hon. Maria Clarita Garcia- Limbaro
Municipal Mayor of Bayabas, Surigao del Sur
(as told to Eunice G. Montaos, RSMO of Kalahi-CIDSS Caraga)