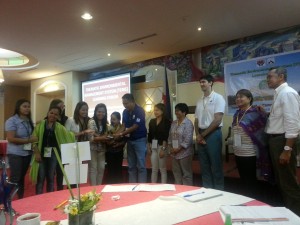 Cebu City- The Department of Social Welfare and Development (DSWD) Caraga bagged two major awards during the national learning forum on Thematic and Environmental Management System (TEMS) on April 28-30, 2014 held at Elizabeth Hotel, Cebu City.
The Field Office got plaques for the Best Practice in TEMS application (community resiliency category) and People's choice for miniature presentation awards.
This event was graced by the regional directors and assistant regional directors of the Department's field offices.
In attendance also were some of the regional staff of the KALAHI CIDSS- National Community Driven Development Program (KC-NCDDP) who attended the first TEMS forum which happened a year ago.
The participants shared their learnings in the field and experiences in implementing sub-projects with the integration of the concepts and principles learned in TEMS. Each region prepared miniature presentations of how TEMS was employed in the implementation of Kalahi-CIDSS sub-projects.
With the collaborative efforts of the Regional Program Management Office (RPMO) staff of KC-NCDDP in Caraga, especially the Engineering unit, the region was able to present a 3-d miniature replica of a community in the region that incorporated the TEMS.
Led by Assistant Director for Operations Mita Lim of DSWD Caraga, the representatives of Caraga region were the following: Regional Infrastructure Specialist Engr. Macrino Sumagang, Regional Project Coordinator Elsa Montemor, Area Coordinators Gladys Agbu and Princesa Otacan, Engr. Rexanne Mendoza, and Community Facilitators Joilyn Dueñas and Hilda Betonio. Ednilyn Genite, a community volunteer from Kitacharo, Agusan del Norte, also joined the team.
The significance of applying the concepts in TEMS with the 'new normal' condition of the country was emphasized by Assistant Secretary Camilo Gudmalin  in his message.
Other speakers during the activity were Dr. Filiberto Pollisco, Policy and Research Specialist of the ASEAN Center for Biodiversity Management and Director Vincent Hilomen of the Biodiversity Management Bureau of the DENR, who discussed about the status of the Philippines in terms of biodiversity and environmental condition.
The received awards of the Field Office are the fruit of its efforts in implementing CDD projects which  enable Poor communities to be resilient against climate change or in DSWD's terms, the 'new normal'.
This national forum on TEMS presented the high importance of environmental protection and management in the Department's implementation of the different CDD projects.
KC-NCDDP is an anti-poverty program of the national government which is a scale-up of the Kalahi-CIDSS project. One of the features of the Program is employing certain safeguards to ensure that its implementation will not be detrimental to the people and to the environment as well. ###(EGM/Social Marketing Unit/ DSWD Field Office Caraga).