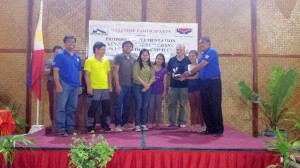 Boracay, Philippines – Best Practices in Kalahi-CIDSS Australian Agency for International Development (KC-AusAID) implementation, and Development Partners' Choice awards were received by the Department of Social Welfare and Development (DSWD) Field Office Caraga during the Implementation Review for AusAID Grant Culmination Activity on May 20-23, 2014 at Paradise Garden Resort Hotel, Boracay Island.
This event purposed to gather the KC-AusAID workers to share their experiences, gains, and even learnings in their implementation of the Project to recipient municipalities all over the country.
DSWD Caraga was recognized with its best practices and innovations which are as follows: application of Thematic and Environmental Management System (TEMS) to the construction of sub-projects (SPs), promotion of social and peace cohesion among barangay residents through SP implementation, inclusion of Indigenous People (IP) as workers for construction, convergence (internal and external) with other agencies to fast-track the process, completion of quality SPs ahead of targeted time, establishment of ASK-CF database system for regional fiduciary review, conduct of regular meetings and technical sessions with workers with their municipal counterparts, strict observance of construction safety protocols, involvement of women during SP implementation, and close coordination between community volunteers and barangay officials particularly in strategizing the delivery of materials in far-flung areas.
Regional Infrastructure Specialist and Engr. Macrino Sumagang, Municipal Monitor Maryfel Jerios, Finance Analyst II Mary Jane Angcos, Infrastructure Assistant and Engr. Vanessa Endozo, and Project Operations Officer III and Engr. Potamio Valdehueza, are the representatives from the Kalahi-CIDSS Regional Program Management Office (RPMO) of DSWD Caraga, who participated the summation activity and received the two plaques given by the Coffey International.
Other participating regions are the following: IVA (CALABARZON), V (BICOL region), VI (Western Visayas), VIII (Eastern Visayas), IX (Zamboanga Peninsula), X (Northern Mindanao), XI (Davao region), and XII (SOCCKSARGEN).
AusAID is a program of the Australian Government which aims to provide support and assistance to developing countries, such as the Philippines, to fight against poverty and achieve sustainable development.
KC-AusAID implementation in the country, including the social preparation, started in November 2012 and was finished in April 2014 with a total budget of 10 million Australian dollars.
Its implementation in Caraga benefited the 13 municipalities in the five (5) provinces of the region, with a total of 68 sub-projects constructed. Most of the SPs are day care centers and classrooms since the Australian Government gives emphasis on the importance of education in attaining development.
These recipient localities are the following: Cagdianao, Gigaquit, Jabonga, Kitcharao, Libjo, Lingig, Loreto (AdS), Marihatag, Pilar, San Miguel, Sibagat, Socorro, and Veruela.
With the successful implementation of this Project in the Philippines, the Australian government extends assistance through another grant amounting to AUD 12 M or approximately Php 476 M to be utilized within 18 months.
AusAID will now have a new brand name which is the Department of Foreign Affairs and Trade (DFAT). ###(Eunice G. Montaos/Social Marketing Unit/DSWD Field Office Caraga)