Butuan City –  DSWD Caraga as co – chair for disaster response spearheaded the Regional Disaster Response Cluster (RDRC) meeting n cognizant of the human sufferings due to recurring disasters.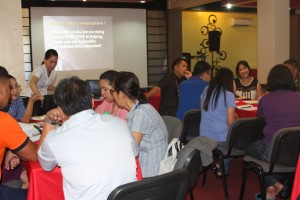 DSWD Regional Director Minda B. Brigoli led the representatives from the other government agencies as they convened and assessed the disaster response experience in the region using a Meaningful Conversation via World Café' strategy. The group reviewed the disaster response cluster functions, and crafted each member – agency's function under the regional response cluster.
In the said meeting DSWD Chief on Institutional Development Division and Protective Service Unit  Angelita B. Amista facilitated from the different participating agencies the crafting of the following interventions by the different government agencies were seen effective during disaster preparedness and response: assessment and geo – hazard mapping; establishment of compound centre for power monitoring; prepositioning of goods in strategic areas; 24/7 monitoring of weather forecast and no travel policy; and information of timely, accurate, and relevant disaster – related updates, among others.
The participants of the said RDRC meeting are coming from cluster agencies led by DSWD – Caraga were able to identify the following areas for growth or actions to be taken in order to enhance its preparedness and response operations during disaster: strengthen coordination mechanisms among organization providing support to disaster – victims especially relief delivery; explore partnership with the local suppliers during disaster as alternative source of goods needed for relief distribution; popularize IEC materials on DRRM; and mandatory training on basic life support, swimming, and first aid among others.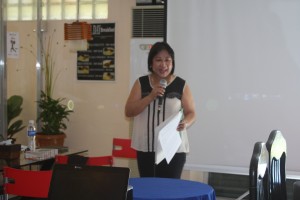 RD Minda B. Brigoli stated that the disaster survivors are helpless and traumatized and even would be more traumatic for the survivors if the respondents are not prepared and do not know what to do during and in times of disaster.
She also identified that all efforts of the cluster member agencies must be well coordinated and systems integrated for the prompt and adequate delivery of services and assistance to disaster -affected populace. Thus, the need for the cluster members to meet regularly to ensure efficient and harmonized response by concerned agencies in time of disaster.
The following national government agencies are present in the said forum namely: NFA; DILG; OCD; PIA; NGCP; Coast Guards; AFP; DAR; DENR; CAAP; DFA and DTI. They were duly embodied by representatives.
The said meeting was held at Beatriz Café, Butuan City today, May 14, 2014. ###(TDB/Social Marketing Unit FO Caraga)