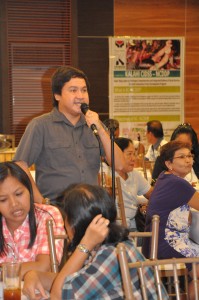 Surigao City- Municipalities who are already graduates of the Kapit-Bisig Laban sa Kahirapan- Comprehensive and Integrated Delivery of Social Services (Kalahi-CIDSS) bared during the Local Government Unit (LGU) Forum on May 28, 2014 at Gateway Hotel, Surigao City, that prior the orientation on KALAHI CIDSS-National Community Driven Development Program (KC-NCDDP), they already included in their budget plans the allotment for future CDD projects.
"We are already prepared since we have already allocated fund for this project because we have anticipated this beforehand," said Hon. Marc Adelson Longos of Cagdianao, PDI during the sharing of impressions in the forum.
Mainit and Gigaquit municipalities also shared that they had already prepared their Local Counterpart Contributions (LCCs).
Through the 3rd batch LGU forum conducted by the Department of Social Welfare and Development (DSWD), the eligible municipalities for KC-NCDDP implementation were oriented about the scope of the Program as well as its requirements and processes of implementations.
DSWD Regional Director Minda Brigoli disclosed in her opening message that DSWD needs the support of the LGUs in successfully implementing KC-NCDDP since they are the decision-making body of the LGUs. "It is our hope that you will fully understand and appreciate the CDD processes and its beauty in transforming lives and communities," said Dir. Brigoli.
"Thus, we convene today to be oriented about this new undertaking for us to be prepared on the precedent conditions and requirements of this national anti-poverty program," she also mentioned.
Dir. Brigoli's welcome message was read by Regional Community Development Specialist Esterlita Villamor, who also discussed about the achievements of the region in implementing Kalahi-CIDSS for 11 years and the features of KC-NCDDP, being a scale-up of the CDD strategy.
The 2nd batch LGU forum was participated by sixteen (16) municipalities namely: Basilisa, Cagdianao, Dinagat, Libjo, Loreto (PDI), San Jose, Tubajon, Bacuag, Gigaquit, Malimono, Placer, San Francisco (SdN), Sison, Carrascal, Cortes, and Mainit.
Local chief executives present were Hon. Nena Ladaga-Quijano (Loreto), Hon. Alan Ecleo (Basilisa), Hon. Carlos Egay (Gigaquit) , and Hon. Teodoro Sinaca, Jr. (Malimono).
Other resource persons who discussed about the LCC, LGU enrollment, and unified Memorandum of Agreement (MOA) were Finance Analyst III Maredith Julve, CDD-Urban Coordinator and Monitoring and Technical Assistance (MATA) for Caraga Jacqueline Calimlim, and PAyapa at MAsaganang PamayaNAn (PAMANA) Coordinator Ma. Consuelo Acosta.
Monitoring and Evaluation IV Edward John Ty and Social Marketing Officer Eunice Montaos were also in attendance to assist and facilitate in the conduct of the forum.
KC-NCDDP is a program of the national government through the DSWD, geared towards the reduction of poverty. Its specific objectives are as follows: improve community participation in local development activities; improve management and governance of public sector resources; and increase in investment in basic social and economic infrastructure for village communities.###(Eunice G. Montaos/Social Marketing Unit/DSWD Field Office Caraga)