Kitcharao, Agusan del Norte– Volunteerism is a popular word that not everybody appreciates; for it entails selflessness, sacrifice, and even heroism (as other skeptics describe it).
The trend of this generation is that you will be materially paid for the service that you extend. In the other flip of the coin, though works that were done deserve to be remunerated, however, in the realm of volunteerism, there is no room for one to expect monetary gain; the word is defined otherwise.
In spite of all these liabilities we may enumerate of being a volunteer, why is it that there are still people who actively engage in such activities? Samuel R. Salong, 45, a simple resident of Kitcharao, Agusan del Norte, shares his piece of what may be the answers to this question.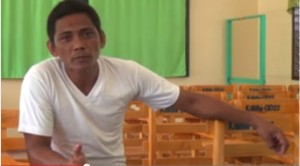 Samuel is the president of the MAFIA. Don't be misled, he's definitely not an assassin. MAFIA is an acronym for Marginalized Fisherfolks Association. They don't hunt people, they catch fishes for a living since they are residing in a coastal area.
A responsible father to his three (3) children, and a loving husband to his wife, Cecelia, Samuel is just a simple man who only dreams of a happy life with his family. As he stated, as long as he can provide to the needs of his household and he maintains his good relationship with his neighbors, he couldn't ask for more in life.
Samuel admitted that Kapit-Bisig Laban sa Kahirapan- Comprehensive and Integrated Delivery of Social Services (Kalahi- CIDSS), in its first entry to their barangay, sure had caught his interest. Though he was only planning to participate, however, to his surprise, his fellowmen nominated and elected him as the Barangay Sub-Project Management Committee (BSPMC) chairperson. He thought that they just considered the position as an extension of his current title held at MAFIA.
"Ako man lang 'tong gidawat kay usa pud sa akong pagtuo nga ako chairman nga duna koy madawdaw ani nga project o duna koy sweldo. Pero pag-ingon man gud nga volunteer wa ko magdahum nga volunteer ra man diay na. (I just accepted it because I thought being a chairman, I will have something to get from the project, more so, a salary. But as told as a volunteer, I didn't know that a volunteer is literally a volunteer)." Samuel expressed.
"Ang pagtuo man gud nako duna koy maayo ug taas nga position taas pud ang akong sweldo. Pero volunteer ra gyud diay siya (I really thought that in having a higher position, I will also have a higher salary. But eventually a volunteer is a volunteer)." he added.
He said that this anti-poverty project of the national government through the Department of Social Welfare and Development (DSWD) united the villagers (since there is a demand of a perfect attendance during assemblies) and taught them strange principles. Its processes led them to identify the basic social services that their locality lacked. It made them realize they are in need and they will be tasked to address those.
"Adtong nagsugod ang proyekto, nibiya ko. Gituyo jud nako nga wa ko mag-pasko sa akong pamilya kay aron musibat na ko, biyaan na nako ni. Kay unsa man diay ning sigeg atubang-atubang nako nga volunteer ra man diay ko wala man diay ko sweldo. (During the start of the project, I left our place and fled to Butuan. I intended not to celebrate Christmas with my family so that I can sneak from the responsibility of being a chairman since I can benefit nothing from being a volunteer)." he honestly opened.
"Niadto ko ug Butuan, nanarbaho ko, pero usahay magabie tulisukon ko sa akong kalag. Kay gisangon ni sa akoa, chairman, maoy mudumala sa trabaho, unya akong hawaan. Mao to nga anang bag-ong tuig nibalik ko. (I then worked in Butuan, but every night, my conscience pricks my soul about the responsibility that I had forsaken. I realized that I was trusted to perform the task, I should not leave it unfinished. And so, I returned in San Roque after new year)." he said.
Samuel seriously led the implementation of the one (1)-unit two (2) classroom elementary school building which amounted to Php 1, 552, 228.00. He conducted regular weekly BSPMC meeting and guided his co-volunteers in their respective responsibilities. He was present in the area every day and he did his duty with less technical assistance from the Area Coordinating Team (ACT) and Municipal Coordinating Team (MCT).
He also attended all the trainings that were conducted to assist them (the volunteers) in project implementation. This, as he mentioned, added to his skills. There were things that he previously didn't know but in his involvement as a community volunteer, he learned new things which were of great use in improving his welfare.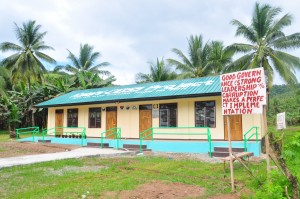 Aware of the crucial role he had, Samuel religiously managed the workers in accordance with the plan and strategized if needed. As an outcome, they completed the sub-project ahead of time without jeopardizing its quality. This amazing effort of the BSPMC chairman was justified by the barangay local government unit (BLGU) officials, the municipal mayor, the vice mayor, the parish priest, and the different stakeholders who visited their sub-project. This made Barangay San Roque famous in their best and outstanding project implementation.
Due to his noteworthy effort and distinguished quality of work, he was hired by Mayor Aristotle E. Montante for the construction of the Oval at Kitcharao Central Elementary School for 12 days in preparation for the athletic meet to be held in the municipality.
At first, he refused since he thought that he couldn't do it. But Mayor Montante told him, "Nganong dili man nimo makaya? Giunsa man diay nimo kadtong sa Kalahi-CIDSS nga dali raman nimo nahuman (Why do you say you can't do it? How did you finish the Kalahi-CIDSS project ahead of time)?"
Because of these questions of Mayor Montante, he accepted the task, though deep inside he felt anxious. With the help of his neighbors and members of the MAFIA, as skilled and unskilled workers who were also volunteers of Kalahi-CIDSS, they worked for the OVAL. It was a 'rain or shine' endeavor, and, gladly, they completed the implementation prior to the set date of completion.
During the payment of their works, the mayor commented, " Ingon ka dili nimo makaya, makaya man lagi (You said you cannot do it, and now you did)." He then replied with a smile, feeling overwhelmed because he absolutely proved to the mayor that he made it and seriously worked and very much willing to help for the development of the municipality.
Just recently, Mayor Montante hired him again as a contractor for the clearing of the Municipal Public Market in the amount of Php 49,000 for the construction of a 2-storey building in the same site. Again, he managed his group to work on it and completed on time. Because of this series of contracts he engaged with the LGU, most of his neighbors are applying to him as skilled and unskilled workers.
Others even get interested in enlisting to be volunteers for Kalahi-CIDSS because they observed the positive impact of the Project to the people.
With this fringes he finally found in being a volunteer, he was able to support his wife and two (2) daughters who were studying in college and eventually graduated. However, all of these positive happenings in his life, according to him, he pays homage to Kalahi-CIDSS, which accordingly paved way for his skills to be honed and recognized.
In the whole duration of the sub-project implementation, Samuel had only thought of their sub-project as what Kalahi-CIDSS is all about. Yet to his amazement, he realized that the classrooms were just like wrappers packaging the real gift of the Project to the community- empowerment and opportunities. Those, for Samuel, are the perks of being a community volunteer. ###( Annabella Madelo, Area Coordinator and Eunice G. Montaos, Social Marketing Officer)