The Department is mandated to provide special protection to children from all forms of abuse and other conditions prejudicial to their development. In compliance with the provisions of RA 7610, Article IV on Child Trafficking, a child shall not be allowed to travel to a foreign country without a travel clearance except for minors traveling with either mother or father. A travel clearance is also required by a minor who was born out of wedlock traveling with his/her biological father.
The primary objective of the issuance of travel clearance is to protect minors from trafficking, abuse exploitation or improper influence by person/s engaged in trafficking. A thorough assessment and review of the documents submitted will be made to ensure that a travel clearance will be issued to minors who are traveling abroad for valid reasons.
Documents needed for issuance of travel clearance are authenticated Birth Certificate of the Minor, Authenticated Marriage Contract by the biological parents (if married), Certificate of No Marriage (CENOMAR) from NSO for minors born out of wedlock, Death Certificate in case of deceased parents, Affidavit of Consent from both parents permitting their child/children to travel abroad stipulating the destination, departure, purpose and traveling companion, Two (2) colored passport size picture of the minor, photocopy of the passport of the traveling companion, and filled-out application form. This program is under the Protective Services Unit through the Community Based Services.
One of the strategies made by the concerned community based social workers to facilitate immediate issuance of travel clearance is through coordination with the LGU Social Workers who are oriented about the program including the required documents so that they could also advise MTA applicants to comply first the needed documents before going to the DSWD satellite office for interview and review of the documents as basis for the issuance of travel clearance.
MTA Applicants are advised to submit their complete documents at the DSWD Satellite Offices per province through the assigned community – based social workers for review and preparation of assessment report except in the province of Agusan del Norte where they could directly submit their application at the Field Office through the assigned Focal Person/community based social worker. Processing of travel clearance is at least 2 days upon completion of required documents.
From January 2014 to March 2014, a total of 52 travel clearance issued to minors.  Out of the fifty-two (52) minors issued with travel clearance, 20 went for vacation, 8 visited their parents and relatives, 4 went for a tour or leisure trip, 4 went for study tour or educational trip, 4 went for the completion of their International Student Convention, 3 attended the International Science & Engineering Fair, and 7 for issuance of passport.
The Table below shows the number of minors issued with travel clearance by province.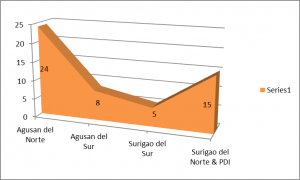 Agusan del Norte (AdN) ranked number one with highest cases of minors traveling abroad with a total of twenty four (24), province of Surigao del Norte ranked number two (2) with a total of fifteen (15), Agusan del Sur (ADS) ranked number three (3) with a total of eight (8) and Surigao del Sur with a total of five (5). ### (by:Vilma V. Bare Ungab – Bare, RSW & TDB / SMU Field Office Caraga)