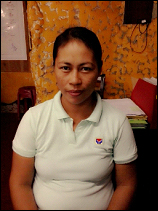 From "roots to riches" as what others close to Lucita Laurente defined her, But those words are too fairytale for a description. Let us see how this definition conveys the real her.
Laurente, a true blooded Tagon-on was born on July 28, 1976 at Brgy. Unaban, Tago, Surigao del Sur from a humble family. She finished her Elementary at Unidos Elementary School and finished her High School years at Gamut National High School. She then earned her bachelor's degree in Industrial Education at Surigao del Sur State University (SDSSU) formerly known as Surigao del Sur Polytechnic State College.
After graduating in college, she wasn't able to land a job that led her to settle down at an early age. She then married Mr. Ritchel Laurente and was blessed with five children namely: Ricamae as the eldest, followed by Rhean, Jade, Renzo and Dave, a humble family where God is at the center of their faith.
Lucita was a full time mother and a wife, while her husband was a single motorcycle driver of a single motorcycle with a monthly income of Php6,000.00. Their monthly income was too little to compensate their daily expenses for food, clothing, medicine, education, electric bills and some other expenses. Thus, she decided to become a volunteer teacher at Unaban Elementary School from 1998 to 2001 and Umbay Primary School from 2003 to 2005.
Gaining such work experiences was remarkable, but for Lucita it was not as remarkable as other regular teachers since she was just receiving Php800.00 a month as her allowance. This led Lucita in deciding to run in their barangay elections and became a barangay kagawad in Unaban from 2007 to 2010 while working as an Alternative Learning System (ALS) facilitator earning a monthly of Php1, 500.00. Lucita was glad that even with such small income she could somehow help his husband in providing the basic needs of their children. But as their children get older, their daily needs are also increases.
With God's Grace, Lucita Laurente became a recipient of the Government's Pantawid Pamilyang Pilipino Program implemented by the Department of Social Welfare and Development (DSWD) in 2010.
Since Laurente was praised to have shown such an exemplary leadership by her co- beneficiaries and friends, she was then appointed as the Parent Leader of their   group. As a   Parent Leader, her friend Melina Bautista said, "Buotan ug masaligan kaayo si Lucita (Lucita is a good person, she can also be trusted)."
"Ate Lucita can easily understand and follow instructions, she is an organized person, and   the   most trusted and reliable Parent Leader so far," said Joan Galientes, Municipal Link Officer (MLO) of Tago, Surigao del Sur.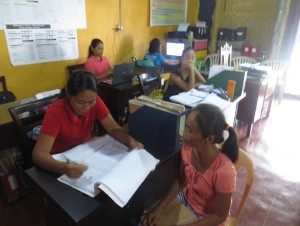 These statements coming from the people who know Lucita will speak volume of her ability in the field of leadership and organizing.
When her MLO knew that she was a college graduate, she was then told to submit her applications to the DSWD Field Office since they were hiring for new workers. With her experiences and education, she was hired as Social Welfare Assistant (SWA) in the City Operations Office of Tandag City, Surigao del Sur last July 22, 2012.
City Link Officer (CLO) Haideliza Intano said, "Lucita is a very responsible mother to her children. As a friend, she's a caring woman, And as a co- worker, she is indeed a dedicated one." These words from Intano are fit enough to define the real Lucita Laurente.
A fairytale-a-like as it may seem, but her richness is not all about pearls and dimes, it's all about how many people admire her, how many people considered her as a model, a friend and as a mother, and how she showcases her best to work even beyond the given duties.
Lucita Laurente is a fine woman with a brave heart. She is the coat of her family in every winter-like melancholic time of their lives. A woman that blooms in spring to color all the people close to her. She's a summer that has a warm heart for everyone and never gets dry. And she's a   shelter when   fall   comes and   breeze chills. She    is     seasoned     by    time,                      seasoned    with hope; Lucita Laurente is truly a woman for all seasons. ### (Eariel Tolentino/ Stella Maris Barcelon/DSWD Caraga)