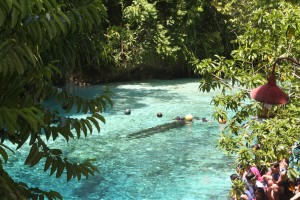 Mrs. Jessica I. Abensay, 35 and her 30-year old husband, Jovito relied on to fishing and selling marine products as their sole means to raise their children. This way of life is common among the folks living in the coast of barangay Talisay, municipality of Hinatuan in the Province of Surigao del Sur.
When the catch is rare, everything else also becomes sporadic including their children, Jewenna and Jerwin's daily school allowance. They have been accustomed to this monotonous set-up until they decided to do something different.
Jessica joined the Sustainable Livelihood Program (SLP) of the Department of Social Welfare and Development in 2012. Under the program she was given trainings on how to look at available resources in the community and use them to put up a market-driven and resource-based enterprise. Putting this business concept into her mind, she was able to start a venture that is both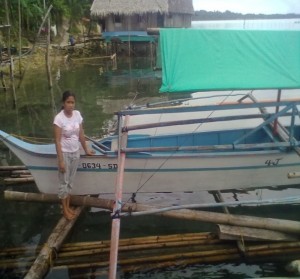 profitable and sustaining – a tour boat.
Hinatuan's rising fame for its Enchanted River is truly unstoppable. With the assistance of the Project Development Officers of the SLP, Jessica and
Jovito have successfully availed of a no-collateral, no-interest character loan from the DSWD to seize the opportunity the booming tourism is offering. They were able to borrow P9,000.00 from the  program and used it to transform their fishing boat into a tour boat. They repainted the boat and made necessary changes to suit the standards for tourism.
The tour would start from the Enchanted River. From there, the tourists would hop from one island to another to reach more delightful sights like the Ponta Cave, Margarete Resort, Pangasinan Pacific Shore, Sebadan Fishcage, Sand Bars and Fishcage, Tinago River and the Vanishing Island.
During the peak season, the couple earns a minimum of P600.00 a day and would earn at least P300.00 a day when the tours are low. Jovito would also go fishing especially during off-peak season to complement the income they get from the tours. Today, the couple enjoys a flexible source of income and is able to provide enough for the family.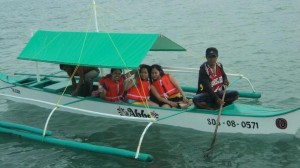 "To accomplish your plans and dreams in life, one should try new things and grab the opportunities in his/her surroundings…and in whatever endeavor you take, the whole family should help each other to make things happen", says Jessica. ###( SLP/TDB/Social Marketing Unit)