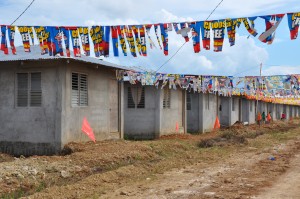 Bislig City- Sixty (60) core shelter units were turned-over on June 18, 2014 by the Department of Social Welfare and Development (DSWD) Caraga to family beneficiaries in Purok 12, Mancarogo, Poblacion, in the city.
The project which costs Php 70,000 each, or 4.2 M in toto, provides permanent and resilient shelters to the residents who were displaced from natural disasters and man-made calamities, especially those who have no capacity to build their own units.
According to DSWD-XIII Regional Director Minda Brigoli who personally turned-over the project to recipients, these units are built through the Department's Core Shelter Assistance Program (CSAP) which aims to provide structurally strong shelters that can withstand 180-220 kph wind velocity.
"CSAP aims to reduce the number of homeless families every year by providing structurally resilient shelters, to maximize participation and draw commitment of the beneficiaries and the neighborhood , and to develop and promote the value of self-reliance among the beneficiaries, as well as the community," said Brigoli.
She also disclosed that these turned-over shelters are only initial ones since from the 14 M grant from DSWD, 200 units are expected to be built, from which 60 are fully completed with light and water connections as to date.
Also, Dir. Brigoli promised to extend further assistance to the family beneficiaries who are also members of the Bislig City Neighborhood Association for Shelter Assistance (BCNASA), especially in the aspect of livelihood since the Department is geared towards a goal of helping the grassroots and vulnerable sector to raise from the survival stage into self-sufficient level.
The regional director spearheaded the distribution of certificate of occupancy to the beneficiaries.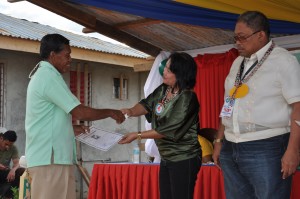 City Mayor Librado Navarro, in his message, mentioned that the City government has provided counterpart for the lot site worth 3 M, and the embankment of the site worth 7.5 M.
"We are so grateful to the national government, most especially to DSWD, for this help extended to the city of Bislig," expressed Librado.
He encouraged and challenged the beneficiaries to be vigilant and responsible to their own houses as this act will simply manifest their gratitude to the Government for providing them one of the basic needs of every individual which is shelter.
For this, BCNASA president Samuel Tabugon extended his appreciation and gratitude to DSWD, and provincial/city/barangay local government units (P/C/BLGUs) for implementing the much needed shelters for their families.
"We may have faced disasters that claimed our previous houses, but I thank the government for helping us start anew," said Tabugon.
He disclosed that the water connection from the main line is the counterpart of the BCNASA families.
The beneficiaries were able to avail the Libreng Pa-ilaw ni P'Noy program through the Surigao del Sur Electric Cooperative (SURSECO).
In attendance also during the turn-over ceremony were representatives of 2nd district congressman Florencio Garay Surigao del Sur and governor Johnny Pimentel, Vice Mayor Jonas Cacayan, City councilor Ricky Sayawan, City social welfare and development officer Letecia Yu with her staff, some unit heads of the CLGU, Poblacion punong barangay Apolio C. Alvar with the councilors, and family beneficiaries. ###(Eunice G. Montaos/Social Marketing Unit/DSWD Field Office Caraga)