(from Tambay to Lambay story of a municipal community facilitator)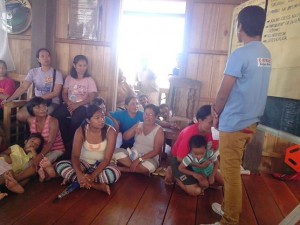 Ephraim Aristan found out that to empower others, one must empower oneself first. It took three unfinished college degrees, three odd jobs and twenty-nine years for him to come to this conclusion.
At 29, Ephraim is a novice at being a community facilitator. It was only his third job after all. Before that, he served as a traffic aide and a messenger delivering communications from the office of the municipal mayor to the barangays. He is doing these jobs in two years.
It was the compensation for the time he wasted in doing nothing. "Doing household chores, drinking, roaming- that's what I did every day for five years," he professed.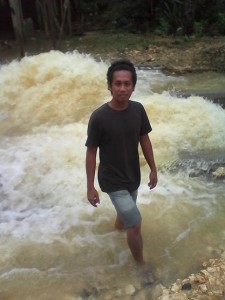 Ephraim who hails from P-6, Poblacion, Barobo, Surigao del Sur wouldn't normally be employed in private companies for his not so impressive educational background. After graduating from high school in 2002, he set out to earn his computer technology degree in Surigao Sur Polytechnic College-Tagbina. At the start of the New Year however, he decided to study agriculture in NORMISIST- Ampayon, now Caraga State University. He soon had to drop out for financial reasons. It took four years before he went back to school again, this time in Agusan Institute Technology- Butuan to study elementary education. That too had to end soon because of financial reasons.
Then he remained unemployed for five years after that. This created tension in their extended family. "I was always reprimanded, I was being a burden," he admitted.
In 2012, he tried his luck in Davao City; no pot of gold there either. He searched for job vacancies for almost a year while human resource officers made him aware of his insufficient educational background.
He came home in 2013 a broke man but soon landed a job under the local government unit as a traffic aide. This was a welcome change from his usual tambay (loafer)activities. Ephraim no longer had to pester his grandmother for some pocket money. He just met the elusive "independence."
"Despite my meager wage, I was happy since I can buy whatever I want," he said.
Three months after, he was assigned as a messenger delivering communication from the office of the municipal mayor to the barangays, and vice versa. Through this job, he was able to visit all the twenty-two (22) barangays in the municipality- a feat a tambay  (loafer) cannot easily carry out.
In October that same year, the office of the municipal social welfare and development, through the implementation of the Grassroots Participatory Budgeting Process (formerly known as Bottom-Up-Budgeting) Project in 2013, was in need of a community facilitator. Ephraim was transferred to be part of the Municipal Coordinating Team (MCT). The municipality of Barobo was a non-KALAHI-CIDSS municipality who for the first time implemented its 2013 GPBP project using the Community Driven Development approach of the Kapit-Bisig  Laban sa Kahirapan- Comprehensive and Integrated Delivery of Social Services (Kalahi-CIDSS).
"At first it was tiring compared to my previous jobs but later on I enjoyed the work since I learned a lot from it," he said.
One of the things he learned is to facilitate the Barangay Project Management Committee (BPMC) meetings in barangays and in the past few months, he was already conducting barangay assemblies for the orientation and election of BPMC volunteers for their 2014 GPBP project. As a student, Ephraim shied away from reporting before the class but now he had to forget he was ever shy. "When I was in high school I oftentimes skip classes when it's my turn for reporting," he shared.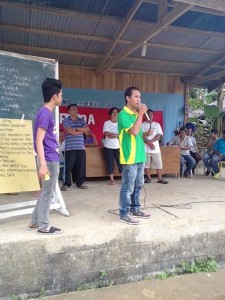 "Now I encourage myself well since it's my job to empower the people, I should empower myself too," he confided. Truly enough, for the 2014 GPBP project, he was assigned directly, for the first time, in the facilitation process for barangays Wakat and Cabacungan.
"I was nervous the first time I conducted barangay assembly. I never thought I am ever capable of doing beyond what I thought I could do." Ephraim shared.
Now he is busy coaching the barangay secretary in the preparation of barangay assembly minutes and the preparation of the full-blown project proposal.
He wants to strive harder when he sees accomplished projects through the efforts of ordinary and grassroots people. This led him to conclude that it's not a college degree that makes a man but rather helping and serving others, although he admittedly thinks of earning a degree in the future so that he could improve himself and contribute more to the community he is to facilitate.
Now Ephraim loves the people's hospitality in every barangay he visits. One of his favorites as a community facilitator in different barangays is the serving of lambay (blue crab) which are given to him as a form of gratitude. It was such a rare delicacy when he was a tambay then. "Back then, I was only a loafer, now I am a municipal community facilitator," he proudly said.
By surmounting obstacles to get a fulfilling and meaningful job, Ephraim transforms himself from a lowly tambay to a community facilitator. He is a proof of the indomitable strength of the human spirit and the magic of the community empowerment that changes the lives of ordinary people.
This is a chance and a hope for every man with low prospects, like Ephraim, who reinvented his life to inspire others. Ephraim is unaware of it himself but he empowers people simply by trying to empower himself through learning and doing his duties and responsibilities as municipal community facilitator.
"Empowerment starts from within; I cannot give what I don't have." he concluded.###(Josito Trinidad, KC-GPBP Municipal Monitor/EGM/Social Marketing Unit/DSWD Field Office Caraga)