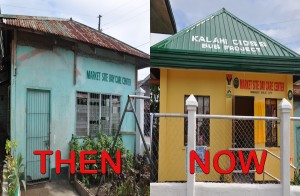 Bislig City- Four (4) barangays in Bislig City namely Burboana, Mangagoy, San Roque, and Tumanan, inaugurated recently the day care center projects implemented using the Community-Driven Development (CDD) strategy of the Kapit-Bisig Laban sa Kahirapan- Comprehensive and Integrated Delivery of Social Services (Kalahi-CIDSS), a flagship poverty-alleviation project of the Department of Social Welfare and Development (DSWD).
These projects, implemented by DSWD through the Grassroots Participatory Budgeting Process program of the national government, cost Php 3, 191, 625.31 in toto, roughly Php 800, 000 each unit.
Minda B. Brigoli, regional director of DSWD Caraga, said that a total of Php 2.9 M grant was allotted for Bislig City in the 2013 implementation of GPBP under the Department.
She also expressed her appreciation to the volunteers who spearheaded the completion of these projects.
"Credits must be given to those volunteers who manned all the transactions to be able to construct the buildings," she added.
Librado C. Navarro, mayor of Bislig City, mentioned that the local government unit, from the city to barangay level, also provided counterpart amounting to Php 291, 625.31, including cash and in-kind contribution.
"The local government unit really supported this Project since this is a new approach of development of which ordinary citizens are given a chance to choose and address the needs in their respective communities," Librado expressed.
"Since they are the ones who facilitated this, from finances and procurement up to construction, they will be responsible in ensuring its sustainability for it to be used by many generations to come," added Librado.
Department of Interior and Local Government (DILG) city officer Olivia Bagasbas lauded the project for providing the ordinary people an opportunity to voice out their need for a day care center.
"I also appreciate the CLGU, especially Mayor Navarro, for not interfering and intervening in the process; he let the people decide for themselves what project to implement and he just supported through the provision of LCC." she added.
Mangagoy Punong Barangay Rolando E. Millan also voiced his admiration to KC-GPBP that the people from the grassroots were empowered through the authority entrusted to them in implementing the day care centers.
"They were included in the planning, and control. In the Kalahi-CIDSS way, there is proper accountability." he bluntly aired.
"We can't afford that this facility will not give its best service.  We were the ones who manned this; these projects are for our children," testified Rafoncil C. Apique, Bids and Award Committee chairperson and day care worker in Sitio Mamparasan, Brgy. San Roque.
Along with the turn-over ceremony of the projects is the distribution of certificates of accreditation to day care centers and teachers.
GPBP, formerly Bottom-Up-Budgeting (BUB), is a program of the national government which is aimed at eradicating poverty by way of participation from the people in the grassroots in identifying, planning, and implementing projects which will directly address their needs of basic community facilities. (###Social Marketing Unit/DSWD Field Office Caraga)