(A LEAF Success Story) As told by Bebelita A. Chiva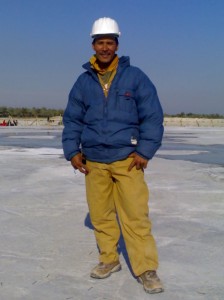 Having low income and five children in school who are in elementary, high school and college means working very hard to meet our family's every need. Earning Php 300.00 on lean days as a mason and foreman wouldn't suffice our necessities. So as his better half, I have to augment our income by cooking and selling puto (native cassava cake) and bud-bud ( rice cake wrapped in palm or banana leaves).
Until last May 1, 2013 during the Livelihood and Employment Assistance Forum (LEAF) held at Naliyagan festival in Prosperidad, Agusan del Sur, Jimmy tried his luck applying for work overseas. Among the hundreds who applied, he was one of the lucky applicants who was hired-on-the-spot. He was signed – up as a foreman of NAWRAS Manpower Services Agency with 2 years of contract. And with the help of the one-stop-shop processing services offered during the activity, my husband Jemmy was able to process his documents that day.
We then availed the loan assistance of the Provincial Public Employment Services Office (PESO) worth Php 50,000.00 with an interest of Php 2, 666.80 every 8 months, as promised during the LEAF.
This is a big help for us since we don't have money to finance for his placement fee. Jemmy flew to Saudi Arabia last July 18, 2013.  Since then, he sends Php 20,000.00 every month to us.  His decision of going out is a  big leap. From 3,000 to 20,000.00, life is better now for the family.
Considering that not all poor households, including Pantawid Pamilya beneficiaries are interested to engage in entrepreneurial activities, job opportunities are made accessible to the Sustainable Livelihood program participants. Part of the program package is the employment facilitation track wherein employable individuals are able to access available jobs through public-private partnerships. This also includes skills enhancement and pre‐employment training to adequately prepare the participants for employment.
Continuous upgrading of technical skills is provided to the participants in order to equip them to independently search for employment opportunities in the future.  
Aspiring employees are engaged in Livelihood and Employment Assistance Forum (LEAF. They shall be provided with skills profiling, job matching, occupational guidance and counseling and job referrals. The DSWD's job matching services will be provided through the assistance of City/Municipal Social Worker designated by the LGU.
The field implementers are tasked to determine the training needs and job qualifications of the participants relative to the existing employment demand. They are also required to network with existing job placement agencies from both government and private sector. ### (Social Marketing Unit/ DSWD FO Caraga)