"It is fun and fulfilling; making a difference is." says Maribel S. Havana, 37, a proud Manobo, a fulfilled teacher, and a noble volunteer.
Amidst stereotypes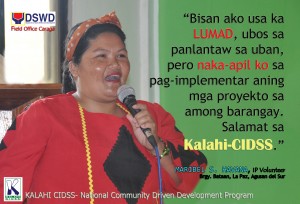 A typical native Manobo who wears native apparels, walks barefoot, speaks their native language, and transfers from one land area to another, Maribel is proud of her race.
Many of her kind are widespread in the mountainous terrain of the upland La Paz, Agusan del Sur. She resides with her husband Dandy and her three (3) children namely Danica, Mark Angelo, and Charles Angelo in Brgy.Bataan, 30-kilometer-far from Poblacion area.
"Tending our farms, and getting food are always our priorities because that's how we survive," she shares about her tribe.
"When they let us (Manobos) join the barangay assemblies and were included to vote and to present our proposed sub-projects during the prioritization, it was the first time I felt that despite my being a lowly lumad, my voice and opinions matter." disclosed Maribel, recalling her initiation experiences upon the entry of the PAyapa at MAsaganang PamayanAN (PAMANA) project under the Kapit-Bisig Laban sa Kahirapan-Comprehensive and Integrated Delivery of Social Services (Kalahi-CIDSS).
Overwhelmed with the new experience offered by the Program, she enthusiastically involved in the course of implementation and she remembers the many assemblies and trainings she attended which prepared and capacitated them in the process of realizing the sub-projects they proposed.
"I sacrificed walking the six (6) kilometer-away barangay site from our house just to attend meetings and assemblies. On my part, it's quite easy since we are used to do such way of transportation." Maribel blissfully opened.
"When I was the one who encouraged my fellow Manobos to participate because I already actively involved in the project, I was then the one who received all their pessimism." she added.
Excited Maribel encouraged her fellow lumads and she told them, "This is for us, and the project needs our involvement." Despite her persuasion, they responded, "You were only deceived by the lures and bait offered by the Government."
"That time, I was shattered. I almost believed them. But I also realized that I will just go nowhere if I would." she continued her story. "I told my fellow Manobos that the government's support is always there. We just need to cooperate. We can only be helped if we ourselves are also willing to be helped. "
For education
Her vigorous involvement in Kalahi-CIDSS before, introduced her to the barangay officials in her place. With her aggressive outlook in life, those officials requested her to be a volunteer teacher since nobody wants to be assigned in the place because of its location and the meager honorarium which will not even suffice the traveling expenses.
"It was not just a habal-habal ride, you still have to walk by feet, disregarding the rocky, muddy, and grassy terrain. The honorarium was Php 1,500, which equals the fare back and forth to the place since only few transportation vehicles venture there." Maribel opened referring to her experience in Brgy. Calampayan.
Maribel was a volunteer teacher to a grade 2 class. "I am not a licensed teacher; I only graduated high school. But, no licensed teacher would want to risk teaching in that place." she shared and expressed that she is happy and fulfilled that she was able to teach her fellow Manobos to read and write.
"I have a vision for my kind. We are left behind. Though we are natives, but we have a right for education. I feel indebted to those who sacrificed for me to learn; I should share what I have learned." Maribel concluded.
An accomplished volunteer
With the Kalahi-CIDSS-PAMANA project, barangay Bataan was able to benefit pre-and-post-harvest facilities during its cycle 1 implementation.
Maribel revealed that she, together with her co-volunteers, personally voiced during the assembly conducted by the field staff of the Project, that they needed such facilities as the absence of such causes social conflicts among them.
"We, lumads, are always least prioritized. Even those who are not like us, they clash against themselves since there was no proper organization. Someone who thinks he is the most powerful and able, gets the benefits and those docile are usually disregarded." she shared.
She opened that others even venture in illegal logging to sustain their daily needs. According to her, with this assistance provided by the government to help them in farming, other residents went back to cultivating their crops as these facilities will make their means of living less laborious.
"It was not easy on our end during that time because I felt that not everyone was as zestful as I was in fighting for the projects. But, I only thought about one thing. If I will give up, who will stand for the team? Our community will not be able to enjoy a project. Not all the time there is an opportunity like this." motivated Maribel articulated.
Maribel, who served as Bids and Awards committee chairperson shared, "Since the implementation followed an organized, fair, and transparent process, set of rules were also laid down for the use of the facilities. It is ensured that nobody will be at a disadvantage side."
"The Project did not only give us sub-projects to help us in our living means; our exposure also educated us, so that we will not be played at and deceived by selfish people." she added.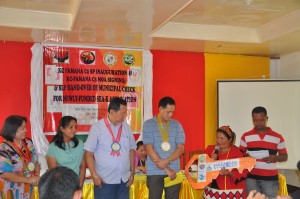 Kalahi-CIDSS PAMANA project also addressed their need of water through the realization of 14 units of rain water harvester, during the 2nd cycle of implementation, which served all the residents of their barangay. The pathway in their barangay site was also concreted during the cycle 3 implementation.
Much had been gained by their barangay with the simple involvement of ordinary citizens, as well as the natives, in development works.
As to Maribel, she now performs as a barangay secretary in Brgy. Bataan. She is very thankful that she learned how to make minutes and resolutions, simple bookkeeping, and preparing other documents. She used these learnings in her new career which started last December 2013.
"I tried making a difference, and I didn't regret that I did." Happy and fulfilled Maribel concluded. ### (Social Marketing Unit/DSWD Field Office Caraga)