Del Carmen, Surigao del Norte- Community participation is indeed an admirable principle of the Kapit-Bisig- Laban sa Kahirapan- Comprehensive and Integrated Delivery of Social Services (Kalahi-CIDSS) project.
This distinct process encourages the community to participate in the localized decision-making, planning and implementing of sub-projects. It also teaches them about the principle of volunteerism.
The word volunteerism is often times misunderstood by many but as the implementation went on, people realized that being a volunteer simply means to give your time and strength to serve others without expecting anything in return. You just purely offer your service for the good of others or community.
In the implementation of Kalahi-CIDSS in the municipality of Del Carmen, Surigao del Norte, there is a woman who offered her service heartily and voluntarily. She performed her responsibility efficiently and effectively. This woman is Miguelyn L. Ticmon, a resident of Brgy. Antipolo.
Miguelyn, 39, is a lovable wife of her loyal husband Ricky Ticmon, and a caring mother to her five (5) obedient children. For 24 years, she peacefully lived with her family in Antipolo, from which farming is their primary source of income.
Active recipient of DSWD programs
She is an active parent leader of the Pantawid Pamilyang Pilipino Program (4Ps) from the year 2008 to 2014. For   her,  the Pantawid Pamilya is a very helpful program especially to the education of her children. "My ability in leading a group and speaking in front of other people were developed," she shared. In addition, the most memorable topic in their Family Development Session (FDS) was all about the responsible parenthood and disciplining children. According to her, every topic in their FDS gave wisdom to all parents in dealing with their children responsibly.
Miguelyn was also a Sustainable Livelihood Program (SLP) recipient and was even selected as the treasurer in the people organization. "Same with Pantawid Pamilya, SLP really helped us in financial aspect and taught us to engage in business so that we can sustain the self sufficiency in our family," she added.
Taking risks proves commitment
When KALAHI-CIDSS started and was introduced in their village, she got interested to know about the Project especially that it is from the Department of Social Welfare and Development (DSWD) like 4Ps and SLP.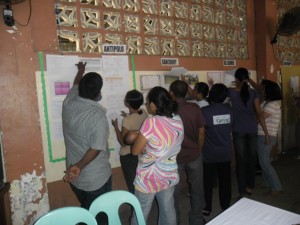 She elaborated that during the first barangay assembly, she was elected as Barangay Representation Team (BRT) member and Grievance Redress System (GRS) chairman in Purok 2. She was seven month pregnant when she decided to volunteer last May 2012.
According to her, she didn't use her condition as an excuse for her to refuse the said position because people or the assembly chose her and their trust meant a lot to her. And so, she attended all the activities related in KALAHI-CIDSS.
She then gave birth to her child Carlos Miguel Ticmon last July 14, 2012. After a month and 10 days, she resumed her duty as a volunteer and she attended the Criteria Setting Workshop with her new born baby. Not only that, she also brought her baby during site validation. "Some say that Carlos Miguel is a KC baby. I know it is difficult to bring a child but it is my will to join the site validation. I'm worried to leave my baby since I feed him through breastfeeding. Even in MIBF PRA I also brought my child and in other activities of KC." she shared.
She elaborated that the sub-project implementation process was very difficult but she admired the participatory, transparency and accountability principles. And unlike other funding agencies, the Project was implemented in a fastest way. She is thankful for all the learning and experience brought by Kalahi-CIDSS.
"I think my learnings during the implementation contributed a lot in my functions and responsibilities as a treasurer in our barangay presently. I always value the term transparency and participation. Transparency for my work especially that I will transact money and participation in all activities in the barangay for the good of all residents" she said.
Her hardship is worth it because she gained knowledge and contributed a lot to reach their common goal with her fellow residents which is to have a pump-driven water system.
Antipolo is thankful to have an active, kind, trustworthy and committed volunteer. ###(KALAHI CIDSS- NCDDP/Social Marketing Unit/DSWD Field Office Caraga)