Jabonga, Agusan del Norte- The Department of Social Welfare and Development (DSWD) Caraga warmly graced the 93rd charter day celebration of Jabonga, Agusan del Norte on July 1, 2014.
One highlight of the activity is the conduct of the very first tagpo (summit) for Poverty-Reduction Programs (PRP) in Jabonga which showcased the different accomplishments in project implementation which contributed the positive shift of the poverty incidence of the municipality.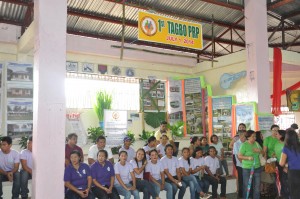 DSWD PRPs which presented booths were the Sustainable Livelihood Program (SLP), KALAHI CIDSS-National Community-Driven Development Program (KC-NCDDP), Pantawid Pamilyang Pilipino Program, Social Pension, and Supplemental Feeding.
Their activity was dubbed "Tiunay na Kabag-ohan sanan Malahutajon na Pag-umad sa Naangkon na Kinaiyahan Dayan sa Malambuon na Habongan (Profound Changes and Sustainable Development Achieved Paves Way for a More Progressive Jabonga)".
"DSWD Caraga takes pride and honor to be a part not only in the celebration of this municipality, but equally important in the struggles towards this development which is the inclusive growth," said Assistant Regional Director for Administration Nerisa T. Murih, who represented Regional Director Minda B. Brigoli.
Murih also expressed her appreciation about the strong commitment of the local government officials in the municipality.
"The DSWD can do nothing without the support of the LGUs. Thus, we can infer that this glorious success that Jabonga has attained, is a product of the unity and convergence of the national government, the local government, and the communities." she added.
Vice Mayor Glicerio M. Monton pronounced during his message the great contribution of the DSWD's social protection programs, most especially the Community-Driven Development (CDD) approach of the Kapit-Bisig Laban sa Kahirapan- Comprehensive and Integrated Delivery of Social Services (Kalahi-CIDSS) in reducing poverty in their locale.
"More or less, forty-eight (48) sub-projects are implemented by community volunteers amounting to 55 M, with the technical assistance provided by DSWD, in partnership with the municipal/barangay local government units (B/MLGUs)," he added.
"Jabonga is a testament, that CDD really works," shared Monton referring to the experience of the municipality in which they replicated the Kalahi-CIDSS process in implementing another sub-project using the LGU funds.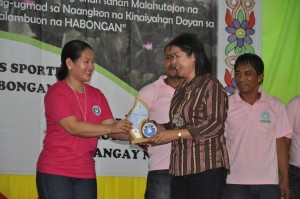 Along with the activity, the LGU of Jabonga handed-in trophies of recognition, dubbed as Salamat Karadjaw award, to the persons and agencies who/which had provided exemplary service and contribution to the municipality's development.
The DSWD Caraga is one of the recipients of the said award, as well as the four (4) of the Office's staff namely Maryfel B. Jerios (Municipal Monitor for KC-Makamasang Tugon), Joan B. Rapisura (Project Development Officer for LeADGOV), Nora Petallo (Provincial Coordinator for SLP), and Assistant Regional Director Mita G. Lim (for her outstanding and noteworthy support in the implementation of KC sub-projects).
"It is time for the Habongans to show our gratefulness to our partners in development; this is our way of showing our sincere and deep gratitude," concluded Mayor Jasmin F. Monton in her message.###(KALAHI CIDSS-NCDDP/Social Marketing Unit/DSWD Field Office Caraga)