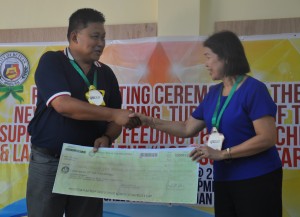 Butuan City –In response to the Millennium Development Goal (MDG) 1 which is to eradicate extreme poverty and hunger,the Department of Social Welfare and Development (DSWD) Field Office Caraga turned over today at the City Social Welfare and Development (CSWD) building a check amounting to Php 7,597,200.00 to Butuan City Local Government Unit (LGU) which is intended for the 2014 Supplementary Feeding Program (SFP) implementation.
DSWD-XIII Sectoral Head Aldie Mae Andoy explained that the said fund is provided by the Department to cater eighty – six (86) barangays, one hundred twelve (112) day care centers (DCCs), and four thousand eight hundred seventy (4, 870) DCC children in the city.
"The SFP aims to provide augmentation support for feeding children in the LGU-managed DCCs and Supervised Neighborhood Play (SNP) areas and communities, to improve knowledge, attitude and practices of children, parents, and caregivers through intensified nutrition and health education, and to improve and sustain the nutritional status of the target beneficiaries," added Andoy.
According to DSWD Regional Director Minda B.  Brigoli there is a nutritional improvement of  eighty – nine percent (89%) based on the Nutritional Status of the city for 2013. From the report, there were five hundred six (506) total number of identified undernourished children of which four hundred forty – eight (448) of them have improved their nutritional status after one hundred twenty (120) feeding days.
RD Brigoli revealed that SFP is to be implemented by seventy – three (73) Local Government Units (LGUs),  one thousand three hundred ten (1, 310) barangays, and two thousand seventy – seven (2, 077) DCCs in Caraga region.
"This Department allots a total amount of Php 106, 064, 400.00 budgeted for sixty – seven thousand, nine hundred ninety (67, 990) children beneficiaries in the region, within the timeline of the school year 2014-2015," reported Brigoli.
Butuan City Mayor Ferdinand Amante, Jr. articulated that the local government expresses strong support to the programs of DSWD because those are parallel with the vision and mission of the city which is to help poor families and reduce poverty incidence in our locale.
Along with the turn-over ceremony is the ribbon cutting for the new CSWD building. Also, the LGU project "Asenso 500" Target was launched.
Assistant Regional Director for Administration Nerisa Murih, City Administrator Leah Mendoza, Sangguniang Bayan Member and Chairperson for Committee on Social Services Ferdinand Nalcot, CSWDO Aldebaran Mordeno, and Early Childhood Care and Development (ECCD) focal person Jocelyn F. Loquite, Moral Recovery Program Officer Pastor Charlie Prior, and local media partners also attended the said event.
The SFP, is one of the social protection programs and services of DSWD which is operated and implemented through the provision of food in addition to the regular meals to currently enrolled DCC pupils as part of the Department's contribution to the ECCD program of the government and as a response to the MDG 1.
The feeding program will be managed by parents based on meal cycles using available indigenous food supplies. Children will be weighed at the start of the feeding and three (3) months thereafter. After the completion of 120 feeding days the improvement and sustenance in their nutritional status will be determined.  ###    (Social Marketing Unit/DSWD Field Office Caraga)