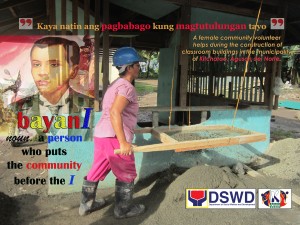 Butuan City- The Department of Social Welfare and Development (DSWD) Caraga, through the KALAHI CIDSS- National Community-Driven Development Program (KC-NCDDP) started this month its search for the recipients of the "bayanI Ka! awards".
As reported, the award is intended to acknowledge the hard work being put by the local, everyday heroes who put their own communities ("bayan") before their own selves ("I").
Regional Director Minda B. Brigoli said that the field workers of the KC-NCDDP were already notified by the Regional Program Management Office (RPMO) to nominate their deemed worthy recipients for the categories included in the awards.
"We will award community volunteers, and local government units who are champions in Gender, Disaster Risk Reduction and Management/Environment Protection, Improved Local Governance, Indigenous Peoples' Welfare, Volunteerism, and Peace," said Brigoli.
"The award will not impose age, gender, and ethnicity restrictions, since the program adheres to the social inclusion principle. The awardees must be based in a Kalahi-CIDSS area, must have a good character, must not be involved in activities that will result in conflict of interest with Kalahi- CIDSS, and his community should have implemented KC-NCDDP for at least one cycle." she added.
According to Assistant Regional Director Mita G. Lim, Regional Program Manager, special awards will also be given.
"The Office will also award the best youth volunteer, best senior citizen volunteer, best indigenous peoples volunteer, best PWD volunteer, award for participatory governance-PLGU and MLGU, best CSO partner, and best Area Coordinating  Team," Lim disclosed.
The "bayanI  Ka! awards" is a national social marketing initiative of KC-NCDDP which seeks not only to recognize the work done by program supporters, but also to develop a pool of champions to help in promoting the program.
KC-NCDDP uses the Community-Driven Development (CDD) strategy which provides poor, local communities the opportunity on project identification, management, and implementation.
Nominations in Caraga for the said award will close on October 31, 2014. Winners will be awarded during the KC-NCDDP Community Volunteers' Congress to be conducted in the last quarter of this year. ###(Social Marketing Unit/ DSWD Field Office Caraga)