In life, change is inevitable.
The cock crows and signals that the sun has risen and another day has come. While others are still savoring their peaceful rests, they get up from bed and head on the kitchen to prepare breakfast for their household.
Expecting for early costumers to buy some stuffs like sugar, coffee, oil, and etc., they open their mini sari-sari store which they put up to also sustain their daily needs.
These scenarios used to be the day-to-day activity of these two women residents of Brgy. Doongan, Butuan City, but not anymore today.
Pantawid parent leader, community volunteer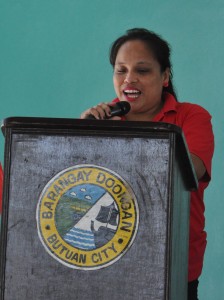 Marivic Maturan Sulayao, 40, raises her three (3) children aged 16, 15, and 10, with her hardworking husband Ronald.
Working as a security guard in an enterprise establishment, Ronald's income would not suffice the needs of their children especially that school requirements are always on the go.
"That's why I am very thankful that there is a Pantawid Pamilyang Pilipino Program which provides additional finances to the poor families like us," Marivic shared.
"It was very difficult back then to buy some basic school requirements, but now, there is a great help coming from the Pantawid program," she added.
From her usual daily routine of attending her mini sari-sari store, there are instances that Marivic steps out from her house and attends the Family Development Sessions (FDSs) since the program operates in a conditional cash transfer basis.
Outspoken, and candid, her engagement with the program went on. Found to be someone who can be trusted with leadership and responsibilities, she was chosen as one of the parent leaders of the program.
Little did Marivic know that her being a parent leader was just a beginning of her involvement in the social protection programs of the Department of Social Welfare and Development (DSWD).  Sometime in March 2013, her village was identified as one of the recipients of the Kapit-Bisig Laban sa Kahirapan- Comprehensive and Integrated Delivery of Social Services (Kalahi-CIDSS) Community-Driven Development (CDD) Urban Pilot Project.
As an active parent leader, Marivic actively participated during the barangay assembly conducted by the KC-CDD Urban Area Coordinating Team (ACT).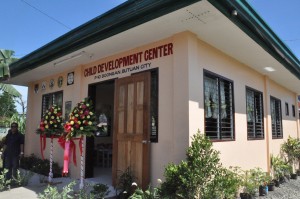 "I was nominated to volunteer, and to be the City Sub-Project Management  and Implementation Committee (CSPMIC) chairperson of the grant provided by the World Bank and the Japan Social Development Fund (JSDF)," recalled Marivic.
As she shared, she already had a background of the CDD-implemented projects since the hometown of her husband, in Esperanza, Agusan del Sur, used to be a recipient of Kalahi-CIDSS.
With this in mind, she knew very well that these kinds of projects are obviously heading to somewhere as the Kalahi-CIDSS project is indeed output-based.
She then encouraged a neighborhood named Romela Salison Cabillon, 46, a single mother, to also join her as a volunteer of the Kalahi-CIDSS CDD Urban.
Both these two (2) women fought for their identified sub-project which is a day care center (DCC), seeing the need for it in their neighboring Purok.
Single mother, development facilitator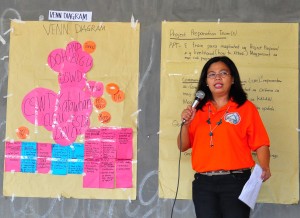 Alone in raising her three (3) children, Romela learned how to lead a family the hard way. These experiences braved her as a volunteer in implementing a CDD project.
Having a little background in basic accounting subjects in an unfinished college degree, she served as a member of the Project Preparation Team (PPT) and the chairperson of the Bids and Awards Committee (BAC) for the implementation of their DCC.
"We had undergone financial management, and procurement trainings, project proposal writing workshops, and a lot more capability building activities," opened Romela.
"Before, we don't have any idea how to make project proposals but now we already know.  Our firsthand experience of implementing a government project made us realize how difficult  the process of managing and liquidating the funds of the Government is." she added.
Sense of fulfillment in volunteerism
Both Marivic and Romela found the sense of fulfillment upon spearheading the realization of a learning center project for young children in their village. Every time they walk by the road along the said establishment, they vividly recall their worthwhile efforts and the memories of volunteering for a cause.
Presently, these two (2) women are now staff of their barangay office. Both of them are designated as Gender and Development (GAD) focal persons in their barangay.
"Wala jud ko nagdahom  nga musalig sa akoa ang council nga himoon sa barangay nga GAD focal  person (I didn't expect that the council will entrust me to be one of the GAD focal persons in the barangay)." exclaimed Romela.
"Mapasalamaton gayod ako ug dako sa Pantawid, ug Kalahi-CIDSS projects kay natagaan ko ug chance nga maumol ang akong kahibalo sa pagdumala ug mamahimong lider ug maayong ihimplo sa akong isig ka tawo hilabina sa akong mga kaubanan nga mga boluntaryo nga diin maoy nahimong sumbanan sa council sa pagpili kanako nga GAD focal (I am very grateful to the Pantawid, and Kalahi-CIDSS projects for giving me a chance to learn many things and to enhance my knowledge in leading people and in being a good example to my colleagues who also volunteered for the project which was the very reason why the council chose me to be a GAD focal)," expressed Marivic.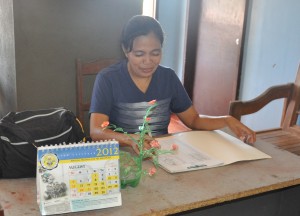 The reputation they built after truthfully volunteering for the Kalahi-CIDSS project placed them as trusted key persons of the barangay office.
Mornings for these two women are now different.  They wake up, do the basic household chores, and prepare for their duty at the barangay office as GAD focal persons in Doongan. ### (Social Marketing Unit/DSWD Field Office Caraga)