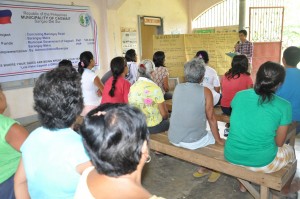 CARAGA- The Area Coordinating Teams (ACTs) of the Department of Social Welfare and Development (DSWD) Caraga conduct this month series of barangay assemblies at the villages of the municipalities identified to implement the KALAHI CIDSS- National Community-Driven Development Program (KC-NCDDP).
Deputy Regional Program Manager Ester V. Villamor bared that the first barangays to hold assemblies are those which were classified with high poverty incidence, and were affected by the super typhoon Yolanda.
"These municipalities will undergo the Accelerated Community Empowerment Cycle (ACEAC) process since their first year implementation is designed primarily for early recovery and rehabilitation purposes from calamities experienced," said Villamor.
Assistant Regional Director for Operations Mita G. Lim added that the main objective of the first barangay assembly is to introduce the KC-NCDDP and the disaster response operations procedures in the context of addressing needs for early recovery and rehabilitation in the barangays, and to generate list of unaddressed needs from the community themselves, for support by the KC-NCDDP.
The assembly will be facilitated by the assigned community empowerment facilitator with the assistance of his/her counterpart in the municipal coordinating team.
The participants of the said forum are the community empowerment facilitator assigned to the barangay, the barangay chairperson, sangguniang bayan members, validation team, and community residents.
Regional Director Minda B. Brigoli said that the minimum attendance required by the Program during the assembly is at least one representative from each household and for the barangay is eighty (80) percent of the total number of households plus one.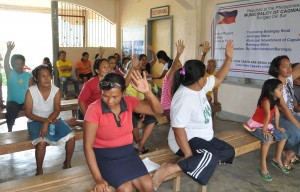 "Since this is a program which uses the community-driven development (CDD) approach, the conduct of the barangay assembly for presentation, orientation, and consultation is very crucial, and it requires the presence of the villagers," Brigoli expressed.
"This is the time that we let the residents understand their significant roles to be played in helping their barangay through their direct participation and active support. Also during the assembly, the residents will elect the volunteers to man the sub-project implementation" she added.
The KC-NCDDP is a poverty-alleviation program of the national government and this is implemented by the DSWD. It uses the CDD strategy which is anchored on the participatory, transparency, inclusive, and accountability principles. In Caraga region, forty-six (46) municipalities will implement KC-NCDDP in 2014. ###(Social Marketing Unit/DSWD Field Office Caraga)