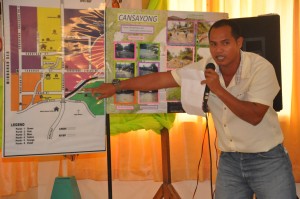 CARAGA – The elected community volunteers in the recipient barangays of the municipalities to implement the Kapit-Bisig Laban sa Kahirapan- Comprehensive and Integrated Delivery of Social Services- National Community-Driven Development Program (KALAHI CIDSS-NCDDP) presented their communities' decided sub-projects to be implemented under the said program.
These presentations were done by the representatives of the benefiting communities during the municipal forum being conducted this month by the Area Coordinating Teams (ACTs) of the KALAHI CIDSS- NCDDP, in partnership with the Municipal Coordinating Teams (MCTs) of the respective local government units (LGUs).
According to Regional Director Minda B. Brigoli, such activity is part of the community planning and project proposal development stage of the Accelerated Community Empowerment Activity Cycle (ACEAC) process followed by the Program in its interventions to the towns of high poverty incidence and were affected by the super typhoon Yolanda.
"The municipal forum is conducted in every municipality after the barangay level community consultations or the first barangay assembly," added Brigoli.
She also mentioned that the said activity is of much significance since its main objectives are to discuss and confirm in the municipal level the prioritized recovery and rehabilitation problems and needs of the benefiting barangays, go over with the deviations in barangay block grants, and agree on alternative schemes, and deliberate and agree on joint, inter-barangay projects to address common needs affecting different barangays.
Participating the forum are the Barangay Representation Team (BRT) and Project Preparation Team (PPT) volunteers, municipal mayor, Sangguniang Bayan members, LGU department heads and relevant staff, National Government Agency (NGA) and Civil Society Organization (CSO) representatives, National Commission on Indigenous Peoples (NCIP) representatives and IP tribal leader, and the Program team.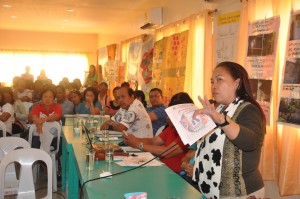 Regional Program Manager and Assistant Regional Director for Operations Mita G. Lim also shared that along with the objectives of the forum is the consideration of the linkages of similar projects, avoidance of duplication and contradiction with other NGA, LGU, and other development partners, addressing possible conflict with other Disaster Risk Reduction and Management (DRRM) policies and legal standards, and feasibility of innovative ideas and technical assistance requirements to support implementation.
"The municipal forum resolution on barangay grants allocation and all key decisions made in the forum, signed by the BRTs, and concurred by the Mayor and the AC, are the outputs of the said activity," added Lim.
The Project Proposal Development Workshop (PDW) is expected to follow after the municipal forum.
To date, thirty-four (34) municipalities already conducted the forum, while the other twelve (12) towns are expected to conduct the activity before the month ends.
Most of the communities' prioritized sub-projects were classroom buildings, river control, sea wall, concrete canal, multi-purpose building, evacuation center, flood control, pre-and-post harvest facilities, water systems, foot bridges, pathways, and access roads.
KALAHI CIDSS- NCDDP is the expansion into a national scale of operations of the community-driven development (CDD) approach, which was tried and proven effective by the kalahi-CIDSS project. It targets the coverage of 847 of the poorest municipalities in the country, and 57 in the region. ###(Social Marketing Unit/ DSWD Field Office Caraga)