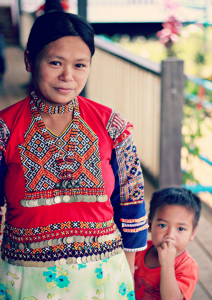 San Francisco, Agusan del Sur– The Department of Social Welfare and Development through the Pantawid Pamilyang Pilipino Program in partnership with Sibog Katawhan Alang sa Paglambo, Inc. (SIKAP, Inc.) conducted a 4-day training on Community Organizing and Indigenous People (IP) Sensitivity for Modified Conditional Cash Transfer (MCCT) Field Implementers on October 8-11, at Mabe's Savory Place, San Francisco, Agusan del Sur.
The said activity envisioned to conduct social  preparation that employs approaches on community organizing that will include activities on entry and integration to the community, orientation of tribal leaders on Conditional Cash Transfer- Indigenous People (CCT-IP); profiling of prospective IP partners; and social investigation and assessment focused on supply-side, rapid situational analysis, mobility and capital assessment.
Along with it, the action also sought to provide capacity building activities such as IP-sensitive Family Development Sessions (FDS), livelihood skills training and other learning activities based on identified needs of IP partner families; linked IP communities to other services and interventions provided by Local Government Unit (LGU), National Government Agencies (NGA) and private sector; monitor and document compliance to education, health and FDS as basis for preparation of payroll; assisted IP community in crafting community development plan that will support and sustain the CCT-IP program; and prepared and submitted required reports including liquidation, monthly accomplishment, financial documents, and terminal reports in accordance with existing policies and guidelines.
"The Conditional Cash Transfer for Indigenous Peoples (CCT-IP) program will provide equal opportunities to indigenous communities in Geographically Isolated and Disadvantaged Areas (GIDAs) in accessing the services and benefits of the Pantawid Pamilyang Pilipino Program," said DSWD Regional Director Minda B. Brigoli.
"The said program is founded on full recognition of the participation rights of IPs to ensure the quality of services that are responsive and appropriate to the needs and desires of these communities," Brigoli added.
"The strategy is conditional cash transfer but with modifications in terms of processes in targeting, conditionalities, package of benefits, interventions and modes of implementation," Brigoli exclaimed.
"MCCT-IP in Caraga Region is implemented by DSWD with SIKAP (CSO-run). Community Facilitators (CFs) and CF's Assistant were hired and expected to demonstrate openness and willingness to critically integrate with the cultural nuance of the IP communities," shared Christine H. Ampon, Executive Director of SIKAP, Inc..
SIKAP, Inc. engagement with MCCT-IP program has now covered the four provinces of Caraga except in the province of Dinagat Islands. In Agusan del Norte, the municipalities covered are Buenavista, Butuan City, Cabadbaran City, Jabonga, Kitcharao, Las Nieves, Nasipit, Santiago and Tubay. In Agusan del Sur, the shielded municipalities are Bunawan, Esperanza, La Paz, Loreto, Rosario, San Francisco, San Luis, Santa Josefa, Sibagat, Talacogon, Trento and Veruela. In Surigao del Norte, included in the lists of municipalities are Alegria, Gigaquit, Mainit, Malimono, San Francisco (Anao-aon), Sison, Surigao City and Tubod while in Surigao del Sur only the municipalities of Bayabas, Lingig, San Miguel and Tagbina are covered by the program.
The CCT for IP employs holistic approach of community development to active empowerment and the basic services delivered can be a mechanism to sustain cultural integrity.
As of October 2, 2014, there are 11, 676 registered families in the program all over the four slated provinces of the region. From the total registered families, SIKAP, Inc. has contributed 4, 217 registered families. The rest of the remaining families covering 7, 459 families are roofed by the DSWD out of the original target tallying to 5,148 families for the year 2014.
Generally, the said activity aimed to equip participants with knowledge, skills and attitude on community organizing and evidence-informed practice that support IP sensitive interventions to fully implement the Modified Conditional Cash Transfer Program for Indigenous Peoples.###( DSWD FO Caraga)