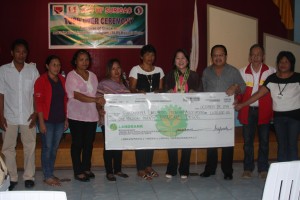 Surigao City – The Sustainable Livelihood Program ( SLP) of the Department of Social  Welfare and Development (DSWD)  Field Office Caraga handed in the Capital Seed Fund ( CSF) to newly funded Self-Employment Assistance –Kaunlaran Association (SKA) amounting to Php 1,020,000.00 to enable the associations to start the establishment of their microenterprise projects at the City Cultural Center, City Hall ground.
"The said amount will benefit barangay Day – asan and Barangay Luna with six SKAs having 99 members all are Pantawid Pamilyang Pilipino Program beneficiaries," DSWD Regional Director Minda B. Brigoli said.
RD Brigoli added that  barangay Day – asan has two SKAs, the Pag- ayawon SKA which received Php 180,000.00 while Day – asan Lobster SKA received Php 170,000.00. Both will have Bangus and loster production for their microenterprise project.
Brigoli further revealed that Brgy. Luna SKAs will indulge into catering and goat raising. The Bernadette SKA has Php 120,000.00; Look – Toril SKA has 280,000.00; Telecom SKA has Php 100,000.00; Springville SKA has Php 170,000.00
In attendance of the said ceremony are the City Mayor, Hon. Ernesto T. Matugas; City Administrator Atty. Manuel Corro; City Social Welfare Development Officer Myrna Destajo; DSWD FO staff and Pantawid Pamilya beneficiaries.
Sustainable Livelihood Program is a community-based capacity building program that seeks to improve the socio-economic status of program participants. It is implemented through the Community-Driven Enterprise Development (CDED) approach, which equips the program participants to actively contribute to production and labour markets by making use of available resources and accessible markets.
The program aims to enable the participants to manage sustainable micro-enterprises or link them to locally available jobs that will enhance their access to basic social services and improve their standard of living.
Participants of the program are poor households identified by the National Household Targeting System for Poverty Reduction or the NHTS-PR, which identifies who and where the poor are. Priority is given to Pantawid Pamilya Pilipino Program partner beneficiaries. Participants engage in social preparation and capacity building workshops; after which, they are given the option to take either a Micro-enterprise Development track or an Employment Facilitation track. From their chosen track, the program helps broaden the resource base of participants through relevant trainings and workshops, and linking them to financial institutions and other public and private institutions that will help expand their livelihood assets. ###( DSWD FO Caraga)