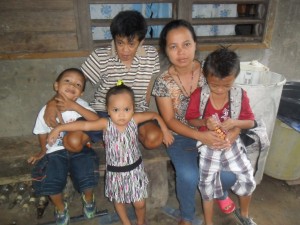 Kitcharao, Agusan del Norte- Stories of positive change are no alien to those who had a firsthand experience of the Community-Driven Development (CDD) approach used by the Kapit-Bisig Laban sa Kahirapan- Comprehensive and Integrated Delivery of Social Services- National Community-Driven Development Program (KALAHI CIDSS-NCDDP).
Thirty-one (31) year-old Ednilyn Genite, who enjoys being a mother to Mell Vincent, Ted Emmanuel, and Venus started to participate in community works in April 2012.
A compassionate wife to Julito who is physically challenged due to an accident in his youth, Ednilyn was very thankful to be one of the beneficiaries of the Pantawid Pamilyang Pilipino Program. The cash grants she received were of great help to her family since their only main source of living is their small business of selling Ready-to-Wear (RTW) apparels.
The cause of her involvement
Ednilyn will never forget that rainy day in 2011 when her eldest child was drifted in a gushing flood water. Though her son was saved by a neighborhood from that incident, yet the dread remains in her every time it would rain heavily in Barangay San Isidro.
Flood and no proper drainage of water had been their village's most pressing problem and they presented this during the community consultations.
Elected to be a member of the Barangay Representation Team (BRT), and the Project Preparation Team (PPT), Ednilyn with her co-villagers tried their best for their proposed sub-project which is a concrete drainage canal to be prioritized.
With her fight having a clear cause, her barangay got the top rank during the Municipal Inter-Barangay Forum- Prioritization Resource Allocation (MIBF-PRA) last October 17, 2012, and indeed their efforts were rewarded.
Seasoned through experience
Ednilyn shares that her experiences as a community volunteer taught her about the importance of community participation. "Being a volunteer was quite a challenging task however it is a fulfilling one," she said.
"Sa tanan posisyon nga akong na-agihan sa Kalahi-CIDSS, daghan jud kaayo ko nakat-onan. Gikan sa paghimo ug mga proposals ug sa pag-preparar sa mga kinahanglan nga dokumento para sa mga full-blown proposals (With the positions I had in Kalahi-CIDSS, I have learned many things such as making proposals and preparing necessary documents for full-blown proposals)," she added.
Having shined in her zealous and exemplary participation in every trainings conducted by the Area Coordinating Teams (ACTs), Ednilyn was chosen to represent the volunteers' sector during the pilot training on Thematic Environmental Management System (TEMS) last March 2013 held in Tagbilaran, Bohol. She treasured all those unforgettable experiences of riding an airplane, staying in a luxurious hotel, learning many valuable things, and representing her municipality and the region.
Since she exerted her best efforts in the said training, she was again selected as a participant in the Training of Trainers on TEMS held in Cebu City last April 2014.
The exposure Ednilyn had as a community volunteer made her more at ease with people and more positive outlook in life. As she stands out in every regional training, she was recommended to the Local Chief Executive of Kitcharao to be a Local Government Unit
(LGU) link counterpart for Pantawid Pamilya last July 2013, because she also experienced being a parent leader.
Her return of gratitude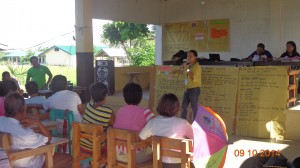 When the Kalahi-CIDSS project scaled up into a national program which is the KALAHI CIDSS-NCDDP, it opened many job opportunities to development workers as the program has a wider coverage. The management scouted for potential workers who have various experiences not only in development works but also in the CDD strategy.
These qualifications were the tickets of Ednilyn to be hired as one of the community empowerment facilitators of the Program. She was even tapped as one of the resource persons to discuss the TEMS application during the roll-out training on KALAHI CIDSSC-NCDDP which was participated by her fellow members of the ACTs.
"Pasalamat ko sa tanan oportunidad nga niabot sa akong kinabuhi, labi na sa Kalahi-CIDSS, sa empowerment nga akong naagum isip usa ka tawo ug usa ka babae (I am grateful for all the opportunities, especially those which were opened through Kalahi-CIDSS, for the empowerment that I got as a person and as woman),"she emotionally expressed.
She also challenged her co-workers to be passionate and inspired enough in the implementation of the Program as they are playing crucial roles. She underscored that they will be powerful mediums, as her previous facilitators were, to realize more empowered ordinary people as she has become. ###(EUNICE G. MONTAOS/Social Marketing Unit/DSWD Field Office Caraga)