"I lost my two daughters',Miradel and Grezelda since 2005. After graduating in grade school, they decided to work in Mangagoy as housekeepers to Mr. and Mrs. Gaspar's residence. Days past, my husband's cousin invited my two daughters' to work as housekeepers in Manila, without prior information from us-as parents of Miradel and Grezelda. That time, work opportunities in Manila were sprouting," Meriam shared sentiments with tears in her eyes during an interview.
Meriam G. Cardino, 45 years old is the parent of Miradel and Grezelda. She is married to Rodrigo F. Cardino, 60 years old. They are blessed with eight children namely, Miradel, 28, eldest of the family; Grezelda, 25; Cristine Joy, 23; Raymond, 21; Rodrigo, Jr., 16; Queene, 14; Resme, 11 and Tanya Nicole, 9-the youngest.   Meriam together with her husband and 6 children are living in Barangay Pocto, Hinatuan, Surigao del Sur.
Farming is the main source of income of her family. As Meriam relayed, there are times that they couldn't afford to buy some of the basic needs of her family like that of food and clothing. Most of the time, her children went to school bringing nothing but pencils and papers.
Meriam struggled a lot to earn a living for her family. She applied as housekeeper to innumerable households in Mangagoy, Lingig, even in Manila just to provide the needs of her children in school, but nonetheless, to find her two lost daughters.
Days and years have passed, Meriam decided to go back to Hinatuan for her other children. She realized that she has  children to attend to and responsibilities to her family needing much of her time that she tends to forget because of her longing her two lost daughters.
At home, Meriam worked hard to send all her children in school. Her husband also drove himself to fish for more earnings to attend the needs of all their children. Yet, the world has its own version of challenges for them to experience. Because of this, only four of the remaining six children were able to go to school; others helped Meriam and her husband to continuously earn a living for the whole family.
Being a parent, it isn't easy for Meriam to see her children missed several important school activities. More so, it's difficult for her to have two lost daughters, so sometimes, she tends to question the universe why these things are happening to her and not to others instead. Why make her family suffer all the convolutions of life. All these "whys" remain a struggle to her not up until the moment that she learned to change the direction of her life.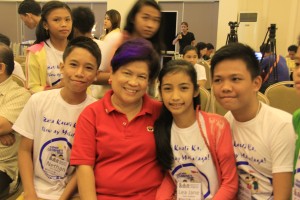 Meriam learned to see things clearly. She started to study the ways on how the circumstances tailor her lifelong journey. She learned to consider that all those things are nothing but a challenge to her and to her family. That all those trials are mercies in disguise. Other than starting to seek refuge to the Almighty, Meriam also learned to participate in barangay related activities. She joined "purok" meetings, plays a part in women undertakings and actively involved herself to all community bearing concerns.
It was indeed a moment to remember when Pantawid Pamilyang Pilipino Program ornamented Meriam's community. She was so lucky to be counted in the first set of beneficiaries of the Pantawid Program. Because of this, she was able to propel all her children in school sending Tanya Nicole, Resme and Queene as the direct recipients of the program.   Her three children included in the list enjoyed 500 php cash grants for health and 300 php for education. Other than the cash grants provided to each beneficiary-family, Meriam's family is also titled to play a part in a Family Development Session (FDS) where each family is given a chance to learn basic information on nutrition, rights of children, marriage, philosophies on how to keep a family together and many more.
Despite of all these things, Meriam still wishes to find her two lost daughters'.
"I want to see Miradel and Grezelda before I die," Meriam voiced.
A mother she is to her eight children, she couldn't afford to leave without seeing them complete as a family and able to stand on their own. To Meriam, it is her last wish to see Miradel and Grezelda in good hands having good life and having a wonderful family to look into.
To Meriam, Pantawid Pamilyang Pilipino Program is more than a platform that provides social assistance to every family. For her, the program serves as her path towards seeing her two lost daughters. To her, Pantawid is a hero that has helped them improve the status of her life and of her family as a whole.
Indeed, it is one of mothers' major roles to keep her family together. To see her family living the life they wish for them to achieve. Now, Meriam continues to believe that through the help of the many various sectors, she will be able to find her two daughters and be able to grant her last wish.###(DSWD FO Caraga).