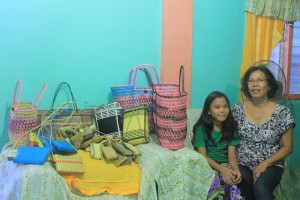 Many have said, when you are born poor, you will forever be poor if you will not work hard and tell yourself you are far different from that. This pattern of story on how the poor is being exploited by the gods is no longer part of our realities nowadays. Today, reality would tell us that if you want to survive, you need to strive one hundred point one percent (100.1%) to continue living. Or if not, choices are, you will serve the gods all throughout your life or you will leave like being beaten by the shadows of your experience echoing all throughout your existence.  Neither way; you loss. Neither way is not of her choice. Yours neither.
This story is true to Mrs. Jovincia M. Magsanay. Having five children, Marissa, Madel, Celso, Jr., Zebe and Paulo  and one in-house granddaughter, Quenne.
Life for her is a complete picture of neither  and either.
Jovincia is married to Celso C. Magsanay. Farming as the only source of income of their family makes them feel beaten by the hawks of the land. A veracity that keeps on haunting their family; but not until they learn to engage themselves to Pantawid Pamilyang Pilipino Program, a human development program of the national government that invests in health and education of poor households, particularly of children aged 0-18 years old.
" Dako gajud nga kahayag ang gihatag sa amoang pamilya niining programa. Kundili tungud ani, hantud karon, kalisud gihapon ang among matagamtam ug mahimong maamguhan sa akong mga anak ug apo," Jovincia declared.
From rags, Jovincia uses all means available to sustain and support the needs of her children. Out of the first grant release, she uses half of the available resources to fund her plastic rattan business which now sustains the needs of her family.
This business that uses plastics runs their livelihood and sustains them food, clothing, education, health and even shelter.
Way back 2005, Magsanay's family was residing in a very small abode, now, because of hard work and perseverance bearing the principles and learned-disciplines from Family Development Session (FDS) and Inputs from Sustainable Livelihood Program (SLP),         Magsanay's family is now settled in a very comfortable place. To Jovincia, these are all blessings from God.
"Mapasalamatun gajud kami sa Ginoo sa tanang grasya nga ijang gihatag kanamo. Masalamatun usab kami sa Pantawid kay kundili tungud aning programa, hangtud karon, sa nipa gihapon kami magpuyo ug posible nga dili maka-paeskwela sa mga anak,"Jovincia shared.
Now, Jovincia's son Paulo continues his studies at Don Jose College in Surigao City taking Bachelor of Science in Information Technology. For Jovincia, everything she has now is from God and from the program that taught her to be brave enough to continue life using plastics as her armor.
Jovincia's life as a living example of struggle and sacrifice. That out of rags, now she finds life from plastic which for her, is the gold of her life.
Today, the very traditional story of masters and tenants where masters direct the tenants what to do is no longer applicable. New normal requires fighting spirit to adopt adjustments and ability to see things clearly. New normal is about learning to value hardships and be inspired by it. New normal is being able to see that there is indeed gold out of plastics.
Magsanay's family is one of the fifty two (52) self-sufficient families in the Municipality of San Jose in the province of Dinagat Islands. It has as well a total of one thousand two hundred fifteen (1,215) families in the subsistence level and zero (0) families in the survival level.
Jovincia is just one of the six thousand seven hundred forty-four (6,744) self-sufficient household all through-out Caraga as of September 3, 2014. Now, because of the doubled effort and tripled commitment dedicated by partner stakeholders and the Pantawid Pamilyang Pilipino Program, there will be more cited Jovincia in the region that will turn their life from plastics to gold.
Pantawid Pamilyang Pilipino Program has helped one thousand two hundred sixty seven (1,267) families in San Jose (Fifth Waive Data, as of August 30, 2014). The program fulfills its objective to be committed to meeting the Millennium Development Goals (MDG) namely: eradicate extreme poverty and hunger, achieve universal primary education, promote gender equality, reduce child mortality and improve maternal health.