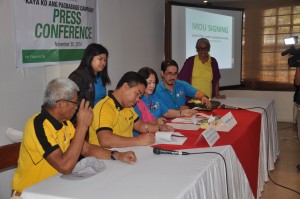 Butuan City– The Department of Social Welfare and Development (DSWD) Caraga signed the Memorandum of Understanding (MOU) with fifteen (15) Civil Society Organizations (CSOs) under voluntary service last November 30, 2014 at Almont City Hotel, Butuan City.
The said event was attended by the following CSO partners: Butuan-Caraga Urban Poor Alliance Inc. (BUCUPA, Inc.), Prestige Guardians Brotherhood Inc., Senior Citizens Association of Butuan City Inc., Butuan Association of Persons with Disability, Guardians Bonafide for Hope Foundation Inc., New Generation Organic Farmer Producer Cooperative, Dynamic Women's Association of Ambago, Uswag Coop Farmers, Butuan City Women's Federation, Pangkalambuan Inc., and Butuan Doctors. On the other hand, the National Auxiliary Chaplaincy of the Philippines (NACPHIL), Carmen Evangelical Ministerial Association (CEMA), Oceans Life Ministries and Butuan Evangelical Minister Association Inc. (BEMAI) were not in the event due to church related activities.
"It has been a passion and a social contract of our President His Excellency Benigno Cojuangco Aquino, Jr. to the Filipino people to direct its programs, projects, and activities towards the attainment of development outcomes that will lead the nation closer to its priority development goals," DSWD Regional Director for Caraga Region Minda B. Brigoli, CESO III relayed.
DSWD Field Office Caraga adheres to the directive to continuously explore potential partners that could be added to the pool of current CSOs.
"It is our milestones that we formulated a regional interim guideline which details the engagement of DSWD Caraga with our volunteer CSOs," Brigoli added.
The guideline specifies possible area of engagement through the Pantawid Pamilyang Pilipino Program systems and components where CSOs can actively participate and share their expertise in their respective fields.
"As Bantay, Gabay, Kaagapay, and Tulay in the implementation of the program, these CSOs can mobilize its human and financial resources to collaborate with the Department in helping the poor households and marginalized sector of the society for a faster, better and smarter delivery of core poverty reduction programs towards increased level of well-being of Pantawid Pamilya beneficiaries," Brigoli shared.
As of fourth quarter, there are a total of 54 CSOs engaged in the implementation of the Pantawid Pamilyang Pilipino Program. Under Voluntary Service: Existing Partner, there are 22 CSOs; Volunteer Service: Potential Partner, 24; Funding Facility Project ((DSWD-CSO Engagement in FDS and FDS Plus, MCCT-IP CSO Managed, ADB TA 7587), there are 4, 1, 1, respectively. Also, there are a total of two (2) CSOs under engagement through Sustainable Livelihood Program (SLP) for the benefit of Pantawid Pamilyang Pilipino Program beneficiaries(###SocialMarketingUnitCARAGA).