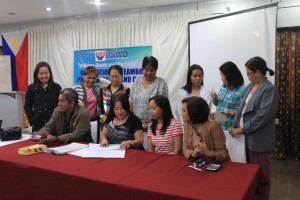 Butuan City– The Department of Social Welfare and Development (DSWD) Caraga through the Department's Social Technology Bureau (STB) forges Memorandum of Agreement (MOA) with four Local Government Units (LGUs), namely Tandag and San Miguel in Surigao del Sur; Tubay in Agusan del Norte; San Francisco in Agusan del Sur on the replication of the completed social services today, December 16, 2014 at Goat2geder Hotel, Butuan City.
The Department's STB is responsible for the innovation of cutting edge social technologies in the field of social welfare protection that will respond to the emerging needs and trends affecting the lives of the poor, vulnerable and disadvantaged individuals, groups or families. Its two key result areas are (1) development of new social welfare and development (SWD) technologies and (2) enrichment of existing programs and services.
"Since its inception as part of the regular program of the DSWD way back in 2011, Social Technology has evolved to become one of the key contributions of the Department to the social protection framework as stated in the National Economic Development Authority-Social Development Committee (NEDA-SDC) Resolution No. 1 Series of 2007," DSWD Caraga Regional Director Minda B. Brigoli, CESO III expressed.
"Social protection constitutes policies and programs that seek to reduce poverty and vulnerability to risks and enhance the social status and rights of the marginalized by promoting and protecting livelihood and employment, protecting against hazards and sudden loss of income, and improving people's lives capacity to manage risks," Brigoli shared.
Brigoli ensures that developed and enhanced social technologies will contribute to the human development as the Department serve as the chair of the human development and poverty reduction cluster.
She summed that in order to attain the end goals, capacity development to partners such as LGUs and Civil Society Organizations (CSOs) must be intensified to empower and prepare them to take on their roles towards a more customer driven social technology development and implementation.
Through the forged MOA, selected partner LGUs are expected to support the implementation and replication of the technology.
The signing of the MOA aims to facilitate the provision of Technical Assistance and Resource Augmentation (TARA) by and between the DSWD and partner LGUs to ensure for an efficacious replication of the completed social technologies (###DSWDFOCaraga###).