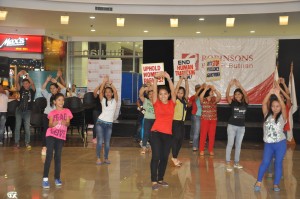 Butuan City- The Department of Social Welfare and Development (DSWD) Caraga spearheads today in Butuan City a flashmob activity to promote to the general public the campaign against human trafficking.
This initiative is in line with the international day against human trafficking annually celebrated every 12th of December.
Partnering with the regional offices of the Philippine National Police (PNP), Department of Education (DepEd), Philippine Information Agency (PIA), Inter-Agency Committee Against Human Trafficking, and the national office of the Department of Justice (DOJ), the flash mob was done at Bangcasi airport, city hall, Guingona park, and Robinsons Place, this city.
Along with the surprise dance presentations done by some 40 staff of the Office with the Partners, is the distribution of twisted fans, stickers, flyers, and other materials reflecting the advocacy against human trafficking.
Placards, printed with "End human trafficking now", "Uphold women's rights", and "Let's stop violence against women", were also raised while the presentations were done.
"This activity aims to raise public awareness about human trafficking as a grave offense and as a serious crime. Through this, we aim to gain support from the public against trafficking cases." said Edilyn Pujadas, DSWD Caraga's social worker officer I and focal person for Recovery and Reintegration Program.
"Through these advocacy activities, we hope to minimize the number of trafficking cases in Caraga," Pujadas added.
Human trafficking is a global problem which is considered as one of the worst forms of sexual exploitation. Section 3 (a) of Republic Act 9208 or the Anti-Trafficking in persons Act of 2003 defines human trafficking as the "recruitment, transportation, transfer or harboring, or receipt of persons with or without the victim's consent or knowledge, within or across national borders by means of threat, coercion, abduction, fraud, deception, abuse of power or position, taking advantage of the vulnerability of the person, or, the giving or receiving of payments or benefits to achieve the consent of a person having control another person for the purpose of exploitation, forced labor or services, slavery, servitude or the removal or sale of organs.
The DSWD's human trafficking helpline in Caraga is (085) 342-5619 to 20 or 0918-947-3954.###(DSWD Field Office Caraga)