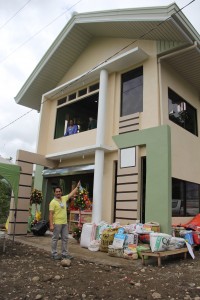 Sibagat, Agusan del Sur – The Sustainable Livelihood Program ( SLP) of the Department of Social Welfare and Development (DSWD) Field Office Caraga marks again another milestone as it opens the first – ever Marketing Center, the Sibagat SKA Federation General Merchandise located at Brgy. Poblacion Sibagat, Agusan del Sur.
" The Sibagat SKA Federation General Merchandise Project serves as a paradigm of a collaborative effort of converging both government and program participants' resources for viable projects," Regional Director Minda B. Brigoli revealed.
The project is a product of aligned thrusts and priorities of the Local Government Unit (LGU) and the DSWD. The LGU, aiming to contribute to poverty reduction as its primary and devolved function has donated a parcel of land amounting to P1.5M for the construction of the project. Part of labor , some construction materials and other logistical needs before, during and after the construction and projects completion amounting to  P 1,130,851.97 were also shouldered by the LGU. The merchandise, with the sum of P600, 000.00 was provided by the SLP. Portion of labor cost was charged against the ( Cash for Building Livelihood Assets)  CBLA for funds at the cost of P235, 170, 000 of the DSWD.
The CBLA is a communication mobilization strategy in developing physical and natural assets to increase the livelihood gains in the locality and also engage the participants in short-term income generating activities to help them meet their daily needs.
Majority of the construction materials, labor and including the goods to be sold in the merchandise were sourced out from the capital seed fund received from the Self- Employment Assistance sa Kaunlaran (SEA -K) .
"This general Merchandise is the first in the history  of SEA – K in Caraga region and in the Philippines," Roy Serdena, Regional Project Coordinator said.
Mr. Serdena added that this marketing center is operated by 15 SEA-K Associations and will served as the center of the value-chain and consolidation strategy of the SLP in the municipality.
SLP has evolved from mere capital assistance of SEA – K for business enterprise to a capacity – building program with greater impacts through provision of comprehensive interventions to program participants by way of micro – enterprise development and employment generation. SEA – K is now a component of the former.