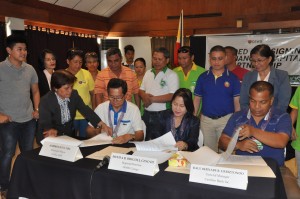 Butuan City– The Department of Social Welfare and Development (DSWD) Caraga forges Memorandum of Agreement (MOA) with the Local Government Unit (LGU) of La Paz and Cantilan Bank Incorporated (CBI) on Japan Social Development Fund-Community Enterprise Development (JSDF-CDED) in Almont Inland Resort, Butuan City on January 21, 2015.
The event was graced by the DSWD Caraga Regional Director Minda B. Brigoli, CESO III, La Paz Municipal Mayor Honorable Ambrosio O. Lim, CBI Prosperidad Branch Manager Rico Guerta being the representative of CBI General Manager Raul Bernabe B. Urbiztondo, Municipal Administrator Tirso A. Gomez, Livelihood Technical Working Group (LTWG), Municipal Project Management Team (MPMT), local media partners and some municipal employees.
"This partnership is a significant history in the lives of the many farmers in La Paz. Through this engagement, both parties will be able to convey well the deliverables expected from them. Because, the DSWD cannot work well without the help of others (LGU and CBI). Through this MOA, we can develop communities," Brigoli shared.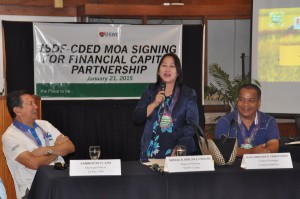 In the event, RD Brigoli also emphasizes the importance of the roles and responsibilities played by the DSWD, LGU and the CBI in the delivery of services to the target recipients, the small-hold farmers. While the financing capital for the production and marketing operations will be accessed from the micro-finance institutions.
"By giving our farmers financial capital as an intervention to their plans, we also give them hope to grow as a person, as a family and as a community. Kasi sila naman ang gagawa ng mga bagay-bagay na ika-uunlad ng kanilang mga sarili. We are just here to support them to alleviate them from poverty and to let them know that they are more what they think of themselves," Brigoli closed.
The JSDF-CDED is a project that provides funds for capability-building activities and procurement of common service facilities to small-hold farmers.(###DSWDCaraga###)