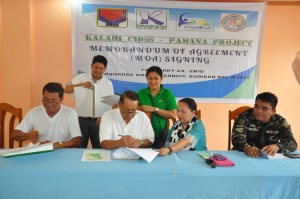 Butuan City- The local government unit (LGU) of Gigaquit in Surigao del Norte, through Mayor Carlos M. Egay, Sr., expressed on February 23, 2015 at the Women's Center in the said town, its continued support for the next cycle of the Kapit-Bisig Laban sa Kahirapan-Comprehensive and Integrated Delivery of Social Services-PAyapa at MAsaganang PamayaNAn (Kalahi-CIDSS PAMANA) project.
The Memorandum of Agreement (MOA) for the implementation of Kalahi-CIDSS PAMANA in the year 2015 was successfully inked on the same date by the Department of Social Welfare and Development (DSWD)-Caraga and the LGU of Gigaquit.
Through this newly-renewed partnership, each of the thirteen (13) barangays in Gigaquit will utilize a grant amounting to Php300,000 from the Program, and the municipal and barangay LGUs are expected to provide a local counterpart contribution (LCC) as stipulated in the MOA.
The proposed sub-projects of the recipient conflict-affected barangays are the following: construction and installation of electric-powered street lights, installation of solar power street lights, construction of water system level II (gravity-driven), construction of drainage canal, construction of solar dryer, and other peace and development projects.
Mayor Egay in his expression of commitment thanked the workers of the DSWD and the partners of the LGU for their effective contributions to the successful implementation of the sub-projects of Kalahi-CIDSS in the municipality.
"I am truly impressed on the projects of Kalahi-CIDSS in Gigaquit because all were implemented with good results. Rest assured that we will do the same as we have done in the past. We will continue our commitment to put necessary resources needed for the completion of the Project in this next cycle." Egay emphasized.
Deputy Regional Program Manager Ester V. Villamor, representing DSWD-XIII Regional Director Minda B. Brigoli, congratulated the LGU of the town for their good performance on Project implementation and for being identified as one of the recipients of the GAPAS Award (Model LGU implementing Kalahi-CIDSS category) which was distributed during the 64th anniversary celebration of the Department in the region.
Kalahi-CIDSS PAMANA Project aims to empower local communities through improved participation in local governance and involvement in the preparation and implementation of poverty-reduction projects. ###(Social Marketing Unit/DSWD Field Office Caraga)