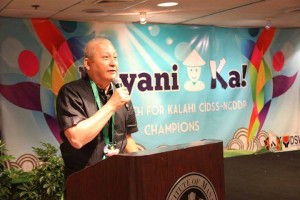 (Governor Johnny T. Pimentel's Testimonial/Message during the 1st bayanI Ka! awards day of DSWD held at AIM Conference Center, Makati City on January 23, 2015)
My greetings to all my colleagues in public service.
In the province of Surigao del Sur, 16 municipalities and 1 city are the beneficiaries of the Kalahi-CIDSS or the Kapit-Bisig Laban sa Kahirapan-Comprehensive and Integrated Delivery of Social Services (Kalahi-CIDSS) program. Of the said areas, a total of 39,498 households are Pantawid Pamilyang Pilipino Program beneficiaries.  In 2009, the poverty threshold of the province is 43.3% and it has lessened into 34.0% in 2012.
The Kalahi-CIDSS program is now 11 years in my province, Surigao del Sur, and it has not only gained ground but it has evolved into several phases after it took various scale-up modal development approaches.
For 11 years, the Kalahi-CIDSS project under various modalities, has built and completed 365 projects, 27 still ongoing, incurring a total project cost of P311.7-M more or less; P69.5-M of which is the total counterpart(PLGUs, BLGUs, and MLGUs) while P242.17-M  represents the total grant downloaded by World Bank and other funding partner institutions.  On top of these, is the KALAHI CIDSS-NCDDP or the National Community-Driven Development Program, which was launched in Caraga region last year dated September 3, 2014 at Almont Hotel's Inland Resort, Butuan City.
Under this, an aggregate sum of P161.2-M was allocated for the implementation of 137 projects  province-wide in the identified 10 municipalities, namely Barobo, Lianga, Lingig, Hinatuan, Cagwait, Carrascal, Lanuza ,Marihatag, and Carmen.  Barobo top the list to have taken the biggest share of P30.6-M, while Carmen took the least amount of P8.23-M. This amount is determined by three parameters; population, income class, and poverty incidence of that particular municipality being factored in. Its status is still on the 2nd stage of project development which is proposal submission together with request for fund releases.
Some of the projects that were realized because of Kalahi-CIDSS are solar street lightings, school buildings, drainage canals, daycare centers, timber and footbridges, water supply, farm-to-market roads, solar driers, harvest facilities, rain collectors etc.  This, I'd like to be honest with you; Of all the project turn-over ceremonies that I have attended, the Kalahi projects are not only well built, well painted, but also of good quality, workmanship-wise.
If I take a glimpse of my province before Kalahi-CIDSS, it is an honest observation that the barangay people have passive attitude on projects and has no participation in community planning; development as they thought is the role of the elected officials and other barangay leaders.
Most of the barangays have no development plans but, only a "wish list" of projects for IRA utilization purposes. The Barangay Development Councils (BDC) though exist, but are not functional.
Insurgency is high, attributed to misjudgment that the elected officials are corrupt and also brought about by extreme poverty especially in the hinterlands.
Poor transportation is a common experience due to absence of access FMR/roads in fa- flung areas; therefore, children are deprived of proper education and the sick are also denied of medication.
There was low harvest and agricultural products cannot be transported to market places; hence some communities experience insufficient family income.
In the arrival of the Kalahi-CIDSS project in our province, we have encountered several challenges. Barangay people termed the program, KALAHI "YAGKA LAHILAHI" meaning in our dialect "something assorted. Their attitude then was "wait and see."
The local stakeholders viewed the process as duplication of their regular work load and useless and so tedious. The BLGUs were burdened with the need to raise their 30% counterpart. There was the absence of legitimate lumber supplier which caused some delays in the project procurement process/implementation.
And then, we were asked about the measures that we adopted for the Project. The provincial government gave a full length of support to the MLGUs/BLGUs in terms of making available our 4 fleets of equipment, survey team, engineers, technical support and even financial counterpart.
The Provincial Governor actively attends to municipal inter-barangay fora especially during proposal play presentation. Likewise the provincial KALAHI focal person is also in attendance.
Teacher-students participated on stage presentations for purposes of lobbying school building proposed projects, together with the district supervisor, and barangay officials. The office of the governor intervened for the expeditious delivery of lumber materials thru a meeting with DENR personnel on total log-ban moratorium (Executive Order 23).
The Sangguniang Panlalawigan supported the KALAHI–CIDSS program through the passage of a resolution requesting province-wide coverage of the project.
With the 11 year-intervention of the Kalahi-CIDSS project in our province, the PLGU has learned many things.
When the participation, transparency, and accountability (PTA) principles work in governance , then it is a system  that worked best as antidote to corruption. The KALAHI way is an avenue for us, local chief executives (LCEs) to showcase our performance with utmost honesty. LCEs pursue community development without committing graft. Its template ensures culpability/responsibility when failure is committed. The high moral working ethics of World Bank, DSWD, and among working LGUs with the volunteer groups, and monitoring teams ensures transparency to the highest degree.
The Community-Driven Development (CDD) strategy is the best model for project implementation that nurture peace and order situation in the countryside. The KALAHI way kills insurgency problem as it is the only program within conflict areas where no revolutionary tax is collected because they do their project, they implement it, and hence, maximum utilization of resources is ensured. They knew where every centavo of project fund was spent. It reconciles political conflict and foster friendships and unity among leaders. This is manifested in the project prioritization, as they cast their votes based on the criteria that they themselves formulated, and barangay chairmen served as judges during proposal play presentation.
Empowering approach of development is an effective approach. KALAHI proved that indeed the poorest has something to say and to contribute. This is to say that there is still hope for the country. The Poor proved they are not a problem in the countryside but an asset while involving in participatory project identification. People empowerment enhanced communities' moral values. From volunteers to lead implementers, they aim for higher development goals.
CDD is an excellent approach to scale up the moral values of local leaders towards instituting good governance.  The Kalahi way gave meaning to the noble notion which goes "Public Office is a Public Trust". It offers re-election for local chief executives by way of exhibiting full support in the implementation of peoples' felt need projects without committing misconduct or graft.
Let me share to you my advocacy. The provincial leadership is seeing development taking hold within its premises reaching even the remotest barangay in my province. I therefore urge and challenge every stakeholder, to let us continue linking our arms, in our pursuit to fight poverty.
The KALAHI experience is more than the project to BEHOLD and the empowerment of the grassroots is more than an experience to CHERISH now and beyond.
Congratulations to the key players of this endeavor.
—Governor Johnny T. Pimentel, Province of Surigao del Sur
bayanI Ka! National Awardee
Improved Local Governance (PLGU) category
Ultimately, Governor Pimentel expressed that no words could ever describe his gratitude to the Project. Rarely has he seen a very transformative endeavor wherein passive communities become more involved and empowered- a feat that emboldens him of advocating Kalahi-CIDSS throughout his constituents and hopes of a total project coverage in the province. He may as well be the region's "Kalahi-CIDSS champion governor".