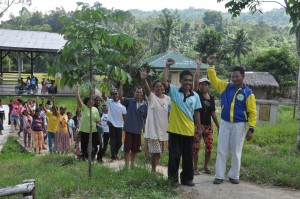 As they hear the clang of the distant bell, the loud resonant repeating noise signal that they should gather in their multi-purpose hall located in the heart of their village.
This had been the practice of the Higaonons in Barangay Kinamaybay, Esperanza in Agusan del Sur during their implementation of the Kalahi-CIDSS program which calls for assemblies to encourage the maximum involvement of the residents.
Kalahi-CIDSS or Kapit-Bisig Laban sa Kahirapan- Comprehensive and Integrated Delivery of Social Services is one of the Department of Social Welfare and Development's big ticket poverty-reduction programs which mainly focuses in the empowerment of ordinary citizens by way of their inclusion and active participation in local governance and key community activities meant to address local poverty issues. It uses the Community-Driven Development (CDD) approach which ensures the inclusion of the Indigenous People (IP) and other vulnerable sectors in community decision-making.
Community involvement
Samuel A. Ampahan, 31, Serving as a chairperson of the Barangay Sub-Project Management Committee (BSPMC), opens about his unforgettable experiences in the Kalahi-CIDSS program. He narrates how the residents obediently and actively join the assemblies conducted by the facilitators of the said program. With their participation in the said activities, they were able to articulate the kind of sub-projects that the whole community needs and were deprived of having been situated in a far-flung area.
Samuel reminisces that it was hard to organize a pool of volunteers from their community because most of the villagers were afraid to affiliate due to lack of education, and some are even "no read-and-no write".
"Hadlok man gud mi sa una kay wala baya jud mi kahibalo intawon unsa ang amoa buhaton, mga ultimo ra baya jud mi nga mga lumad (We were afraid before because we don't know anything and we do not know what are we going to do, we are just natives in this place)," expresses Jeny S. Gallego, 45, one of the members of the barangay council.
But nonetheless, as Samuel shares, they were patiently encouraged by their community facilitators to venture in joining as volunteers for the program. They were promised to be taught and guided well along the implementation.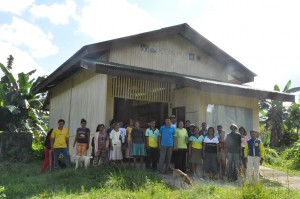 Perks of involvement
"Sa taas nga higayon nga nag-boluntaryo ko, natudluan ko sa mga standard ug regulasyon sa proyekto ug sa materyales. Bisan tuod ug gamay ra akong nahuman nga edukasyon, pero ang edukasyon nga gihatag sa Kalahi-CIDSS kanamo kay taas (In my long experience as a volunteer of the Program, I had been taught about the standards and regulations of the projects and materials. Even though I only finished a vocational course, however the education that the Kalahi-CIDSS taught me is high)" he quipped.
"Pinaagi sa programa, dili lang kami nakabaton ug proyekto, kami usab nakabaton ug kaalam (Through the program, we did not only get projects, but also knowledge)," Samuel added.
Also serving a pastor in a church in his community, Samuel shares his honest observations on the distinct and finicky process of the Program. He opens about the participation, transparency, and accountability principles as salient dimensions of Kalahi-CIDSS.
"Ang proyekto wala namili kung kinsa ang mo-boluntaryo, kaming mga lumad gihatagan ug katungod ug oportunidad (The project didn't choose who to volunteer, we were the ones given the authority as well as opportunities)," Samuel testifies.
With the five(5) sub-projects which are the road, day care center, rice and corn mill, solar dryer, and concrete pathway availed by Kinamaybay through the Kalahi-CIDSS program, their small community appreciated how unity can contribute in accomplishing many things.
"Kung tan-awon sa CBMS survey, wa jud nakapasar sa skills tungod kay kulang sa edukasyon ang mga katawhan. Pero pasalamat mi sa mga facilitators nga buotan nga nagtudlo kanamo para magmalampuson ni nga mga proyekto para mapakunhod ang among kapobrehon (If we will check the CBMS survey, nobody really passed in terms of skills. We are very thankful to the facilitators who are very kind to teach us for the sub-projects to be successfully realized)." expresses Punong Barangay Rolando Pinahan.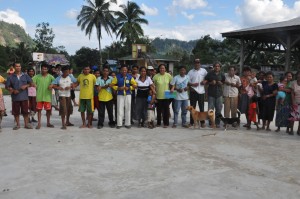 Enjoying the things we're once deprived
He added that their presentation during the Municipal Inter-Barangay Forum (MIBF) was entitled "Nag-anyugon/Nag-antos sa Kalisod (Suffering from Poverty)". However, they are very glad today that their poverty situation is slowly eradicated through the interventions of the Program since it opened many doors for the other agencies to help their community.
"Bisan kami nahilayo sa kabihasnan, pero kami naabot jud sa hinabang sa gobyerno (Even though we are distant in location, the help from the Government still reaches us)," adds Pinahan.
Marife S. Escabas, 27, Leslie G. Manpatilan, 20, Marisa S. Aya, 38, and the other Higaonon volunteers in Kinamaybay, relate how their exposure in the various trainings conducted by the Program, have helped them develop their interpersonal and social skills. According to them, they were then very shy and were afraid to socialize with people other than their neighbors. With their experiences in workshops, canvassing for the materials to be used in the implementation, regular meetings, and their achievement of realizing high-cost sub-projects, they have become more confident.
With the five (5) Kalahi-CIDSS sub-projects implemented in their small village, Kinamaybay can now be easily accessed compared before that it would be really hard to reach the community. The presence of the sub-projects in their locality contributed much in the residents' settling down in their place. Their basic needs for food and survival were also addressed, and the villagers themselves testify that their situation is not anymore as hard as before.
The Higaonons in Kinamaybay may be some of the most marginalized and vulnerable sector in the society.  It is aimed by the national government that through Kalahi-CIDSS, they will have access to the basic social services, and will have their voice to articulate their unique needs as IPs. The program, through its CDD approach, will ensure that no one is left behind. ###(Social Marketing Unit/DSWD Field Office Caraga)