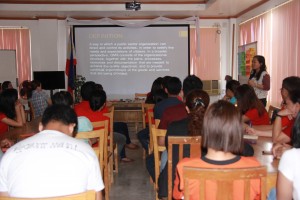 Butuan City-The Department of Social Welfare and Development-Caraga (DSWD) conducts 5S Program General Employee's Orientation (GEO) in preparation to field office targets of earning an International Organization on Standardization (ISO) certification by October of 2015.
The GEO was facilitated by Ms. Golda V. Pocon, Head of Standards and Social Technology Unit; Glezza T. Ty, Head of the Capability Building Unit; Mary Chill L. Momo, Head of the Personnel Unit; Teresa M. Bidaure, Administrative Assistant III; and Tyreen M. Adlaon, Regional Director's Secretary.
During the two-day activity, participants were engaged to discussions on 5S program processes and some key important strategies towards earning ISO certification.
5S program refers to a structured program systematically achieve total organization, cleanliness, and standardization in the workplace. This term was invented in Japan and stands for five Japanese words; Sort, Set (in place), Shine, Standardize, and Sustain.
"DSWD-Caraga being one of the pilot regions for the ISO certification is now almost in a half way towards reaching its target by October this year. Our application for the certification assumes great responsibility. Excellent work should be done. Proper communication and coordination among staff are necessary towards attaining our target. And we can only realize it if we do it all together. Because as an organization, where work is interrelated and interconnected, the incompetency of the other affects the whole organization. Let us do it now, have faith and be courageous, we can do it by October," Regional Director Minda B. Brigoli, CESO III shared.
ISO 9001 QMS produces two types of advantages, the macro and macro-advantages. For the previous, ISO ensures that system is internally assessed recognized, office works comply with the standardized QMS, system is periodically audited, there are always continual improvements in order to perfect the system and it can be an attractive factor for investor. At the same time, the micro-advantages count on ensuring work processes are clearer in procedure and responsibility, work processes are more effective, every staff attempts to work better aimed to achieve quality goals, communication among employees are better and archive is well documented and traceable.
Both the management level personnel and unit staff are responsible in addressing the necessaries towards earning ISO certification as reflected in the slated macro and micro-advantages.
"Every staff is playing an important role in this endeavor. Every staff should burble their minds to our goal. This is a perfect opportunity to show that each and every one of us is doing well and can do better out from the ordinary. Because we do not exist in boxes, we can do it more "better" as a team," Ms. Golda V. Pocon acclaimed.
Provided that everyone is an actor in this attempt, every staff is challenged to understand and internalize the quality policy and objectives, implement documented procedures and work instructions, help make improvements to the processes and ensure to keep records (because If Not Written, It Did Not Happen).
Furthermore, to realize the plan, the following are considered elements of success, above all is the top level commitment to the cause, core team commitment, organization-wide employee participation, cooperation, and support, proper time management and close coordination (###DSWDCaragaRyanMalbasTapayan###0352015).