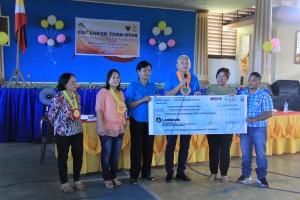 Surigao del Sur– The Department of Social Welfare and Development-Caraga (DSWD) through the Sustainable Livelihood Program hands over the check worth of  13,197,000.00 Million to the municipalities of Tago (6,450,000.00php) and San Agustin (6,747,000.00php) as Capital Seed Fund (CSF) to identified SEA-K associations of over  1,369 beneficiaries for the two municipalities.
The CSF aims to support government funded mini-community-organizations to identify micro-enterprises as a way of income generating activity of a particular SEA-K.
In her message, Regional Director Minda B. Brigoli, CESO III challenges beneficiaries to use the amount properly in order to help themselves uplift their status of living.
"Ang lahat naman po ng programa ng DSWD at ng pamahalaan sa pangkalahatan ay talagang naka-sentro sa inyo [beneficiaries], dahil gaya ng ibang ahensya ng gobyerno, gusto namin sa DSWD na guminhawa at umangat ang estado ng mga buhay ninyo," Brigoli acclaimed.
"And all our undertakings are useless without the support of the local government and most of all, to the provincial government. That is why, the DSWD-Caraga is thankful to Gov. Pimentel for his genuine support to all the programs of the DSWD in the province of Surigao del Sur. But most importantly, the DSWD is thankful sa ating mga pinakamamahal na mga benepisyaryo. Because all of these are nothing without you," Brigoli added.
Along with the check turn-over was the acceptance response of the SEA-K president. In her message, SEA-K president of San Agustin, Susana P. Osorio said that they are thankful to the DSWD for giving them hope and inspiration to continue life and make them believe that there is always reason to live.
"Mapasalamaton gayud kami sa DSWD sa tanan tabang nga ilang gibubo para sa amo. Sa akong panglantaw, sa tanang programa sa gobyerno, mao gayud kini ang tinuod nga nagasulbad sa ka-pobrehon sa mga kabus. Ug salamat pud sa gipaabot ni Mam Minda mahitungud sa usa ka SLP beneficiary nga kuno karon, tinuod na gayud nakalingkawas sa ka-pobrehon. Ug siya gayud naghagit kanamo nga gamiton ning gamay nga pohunan sa maayo. Because if she can do it, we in San Agustin can do it also," Osorio happily shared.
"We are so thankful to the DSWD to all the support they have given us. In my own opinion, of all the programs of the government, this is the program [SLP] that truly solves the problem of the poor. And we are also thankful to RD Brigoli for sharing as the story of a Sustainable Livelihood Program beneficiary.  For challenging us that if she can do it, we in San Agustin can do it also," Osorio happily shared.
In the activity, the LGU Chief Executives of the two municipalities appeared in the event together with their Vice-Mayors and SB members. Governor Pimentel of Surigao del Sur attended the check turn-over in San Agustin but immediately left the venue for another activity in Tandag City (###DSWDCaragaRyanMalbasTapayan###022715).