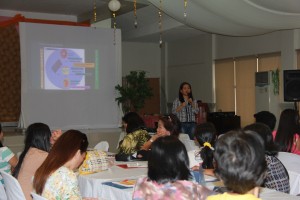 Butuan City-The Department of Social Welfare and Development (DSWD) – Caraga holds training on handling the behaviour of children with learning disability for community volunteers, parents of children with autism, youth sector, people's organization and Local Government Units (LGUs) implementing Tuloy Aral WAlang saGabal (TAWAG) Program in the Region.
The activity aims to capacitate the service-givers with knowledge, skills and expertise to help Children with Special Needs (CSN), to lead [them] a normal life in the future, change the attitude/values and outlook of both careers and the CSN to strongly face challenges of learning to be a better person, to provide care and promote social protection to all CSN and to develop the capabilities of the CSN to become independent and self-reliant constituents in the communities.
"This activity reiterates our plan of action and reinforcement to persons with disabilities (PWD) in the Region. In the local level, PWD sector remains to be non-existent; making them become more susceptible to disaster and their vulnerability becomes an issue to all. The Department calls for necessary action in order to lessen if not fully stop their being vulnerable. Coordinated support of all program implementers especially the LGUs to put necessary action to empower this sector and include them in all plans and programs and services of the local government," Minda B. Brigoli, CESO III shared.
"Through this training, we could instil additional awareness to the caregivers [implementers] and mainstream the call to provide equal rights, privileges, and benefits to PWDs," Brigoli added.
The three-day training was divided to topics necessary on managing children with learning disability, to wit; topics on learning disability perspective by Dr. Renato Villanueva of MJ Santos Hospital, topics on mainstreaming PWD perspective in disaster risk reduction management by Golda Pocon of DSWD FO Caraga Standards Unit, topics on Food Safety by Leah Varon of DSWD FO Caraga, topics on Early Detection, Prevention and Intervention of Disability by Delma Legaspi of DOH-Caraga and topics on Manifestations of Learning Disability, Autism and Down Syndrome by Lorelei Godinez, Jessette Jaranilla and Ma. Euville Mejias from Special Education (SPED)-Butuan.
"Our service for the PWD sector is a calling that needs to be given appropriate attention and care. This training that foresees involvement and cooperation among implementers is orchestrated to develop evident results in the local level. We continue to invite others to help and give priorities [in all aspects] to those people who belong in this sector. Because they are the once truly needing our help. Your [public] interventions are needed to fully realize this concern," Wilma B. Geralla, PWD and Senior Citizens (SC) focal exclaimed.
The activity steered at LJ Mega Convention, Gumamela St. Butuan City and was attended by 55 participants (###DSWDFOCaragaRyanMalbasTapayan###).