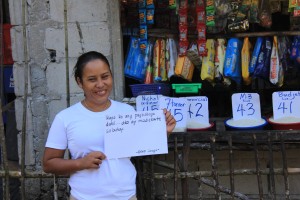 "Everything was dark. So dark. It feels like the world was hopeless. Back then, our lives were so miserable. Well, it was so wretched. Tricky. I really thought that our sacrifices will never end. We barely eat three times a day. In fact, I pity myself for allowing my child to go to school without eating breakfast. Those things were really part of the circumstances," teary-eyed Jodelyn D. Espaldon shared [translated].
Jodelyn D. Espaldon is one of the Pantawid Pamilyang Pilipino Program beneficiaries from the Municipality of Dapa, Surigao del Norte. From the subsistence level of well-being, Jodelyn's social status escalates to self-sufficiency.
Jodelyn is married to Edwin Espaldon. The couple is blessed with a daughter and they named her Einjehl Ann.
As Jodelyn relayed her experiences, she cannot help herself to cry. Those days are gone, she said. The days that left them nothing but the memoire of challenges that till now, keeps on lingering her mind. But nonetheless, Jodelyn is still thankful because those days thought her to become courageous in dealing life, and in making something out of life.
"Karon, naa na kami gamay nga panginabuhian. Tungud sa Pantawid Pamilya, naa na kami gamay nga tindahan. Nakahatag pa gyud ako ug panginabuhian sa uban kay nagapa-angkat man ko sa uban nga tindahan. Dako gyud kaayo ang gihatag sa Pantawid, karon, naa na kami 3 ka pump-boats, ang isa among gihatag sa igsoon sa akong bana," Jodelyn added.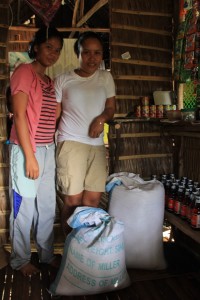 "Because of Pantawid Pamilya, we own a small yet sustaining sari-sari store. Also, I was able to share our business to others by giving them a capital to start theirs. Pantawid has given us much, now; we have 3 pump-boats, one of which is given to my husband's brother," Jodelyn added.
As Jodelyn shared, it was Pantawid Pamilya that helped theme procured their first pump-boat. Through their cash assistance, they were able to keep a parcel to finance the purchasing of the item and to invest for their sari-sari store, considering that the educational needs and the finances needed for health of their child are all secured.
Espaldon family is also a recipient of the Sustainable Livelihood Program (SLP) where Jodelyn was chosen as the president of their SEA-K Kaunlaran Association (SKA) termed as Puka [Family of shell]. Their SKA received a "no-interest" assistance from the program amounting to 120,000.00php and they used it to augment their habitual necessities and to support their established micro-enterprise.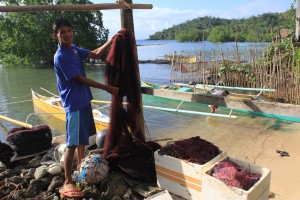 Now, it is Panlambay [local terminology for fishing] that sustains Jodelyn's family. Necessary efforts are needed indeed. Edwin as the head of the family, meets-both-ends in order to provide the needs of his family.
"Kinahanglan gyud adunay diskarte. Labi na gayud sa amo nga ti-unay lamang. Kada, adlaw basta maayo ang panahon, muadto ako sa lawud para manlambay. Usahay, biskan naay gamay nga balatian, mapugus gayud ka nga mu-palawud para adunay makaon," Edwin shared.
"For a kind of people that we are, we need to have strategies to win life. Every day [if the weather is good] I need to send myself to the vastness of the seas to fish. Sometimes, when health problem strikes, I need to force myself to work so we have something to eat," Edwin shared.
Because of shared effort and their determination to succeed in life, Espaldon's family is now a clear example of what a self-sufficient family is. Einjehl Ann is now studying in her 5th year in elementary-with honors received. The family is also busy renovating their house from "nipa" to concrete. With the usual attendance of Jodelyn in FDS, she also continue to learn many things on marriage, family, individual rights and all things that could help them change for good and change for the better.
When asked about their response to the conditionalities of the program?
"We are inspired. Of course, common response to those who have given you goodness is absolute goodness as well. Pantawid thought us to be obedient. Now, I learned to send my child to school in-packed all her necessities. I have her vitamins in-tacked as well," Jodelyn happily shared [translated].
Aside from taking good care of her child, giving all the things she needs in school, Jodelyn is also active in attending Family Development Session (FDS). There, she learned strategies to better her role as a mother to her child and as a wife to her husband.
"Dako lagi ang kabag-uhan sa iyaha. Karon, grabe ka maalagaron. Biskan sa una pa man, nadugangan lang gyud karon," Edwin inserted.
Jodelyn changed a lot better. Though she has served us well before, but now is a lot "more" better," Edwin inserted.
Aside from joining FDS, Jodelyn is also active in participating Barangay Assemblies, purok meetings and all community related activities. Living in an islet is not an excuse for her not to attend those deeds. To her, being able to impart something good for the community is the biggest contribution she could offer.
Is empowerment an issue to their family?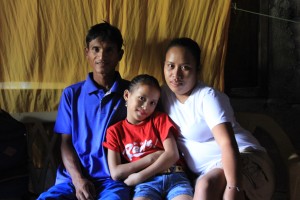 "No. Never was. Attending FDS enlightened me of the things around. Things that would gave us protection. My rights as a woman; and even the rights of every child. FDS bolded my thinking. Now, I am empowered not because there are discrepancies in my family, rather, I learned a lot about myself and the community that surrounds me," Jodelyn exclaimed [translated].
Empowerment has been an issue to other family. But due to the participation of the Pantawid beneficiaries in Family Development Session, things have changed for good.
Now, Jodelyn and her family is living in Sta. Felomena, an islet in the Municipality of Dapa, Islands of Siargao in the province of Surigao del Norte.
With the local and regional interventions they have received, their family indeed is a living testimony that every Pantawid Pamilya beneficiary can cross towards development and self-sufficiency.
Life may cause them waves, but with courage, love of family and understanding, Espaldon's family can invite others to Panlambay, not just to catch a fish but to make other people understand the reason behind catching a fish.