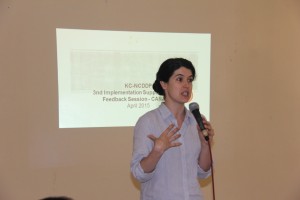 CARAGA- "This is the place that we have seen so far with the most advanced Program implementation," disclosed World Bank (WB) consultant Patricia Fernandez during the exit conference held at Dotties Place, Butuan City on April 10, 2015 for the 3rd joint WB-Asian Development Bank (ADB)-Department of Foreign Affairs and Trade (DFAT) implementation support mission.
The members of the mission team, which was divided into two, simultaneously visited on April 9, 2015 the municipalities of Gigaquit in Surigao del Norte and Hinatuan in Surigao del Sur which are implementing DSWD's Kalahi-CIDSS program or the Kapit-Bisig Laban sa Kahirapan-Comprehensive and Integrated Delivery of Social Services.
Focus group discussions (FGDs) were conducted by the teams with the members of the municipal inter-agency committee (MIAC), municipal/barangay local government councils, and community volunteers.
"The main objective of the mission is more on support to the implementation of Kalahi-CIDSS in the context of recovery and rehabilitation from the Yolanda experience," said Ms. Corinne Canlas, WB consultant.
With the dialogues facilitated, the team lauded the proactive regional team of the Program in Caraga. They had also observed the support of the local government units to the Department's social protection programs and services.
The strategies developed by the regional management to mentor and coach new field staff were also appreciated by the development partners.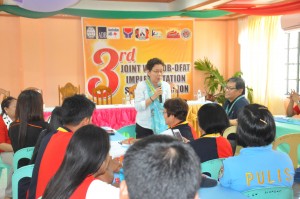 Furthermore, it was observed that significant amount work was done at the municipal level on disaster risk mapping facilitating site selection for sub-projects.
Regional Director Minda B. Brigoli said it was a very interesting visit since the development partners were able to get firsthand information from the frontline implementers of Kalahi-CIDSS at the local and community level.
Other members of the support mission team are Leonardo Paat, Rene Manuel, Romulo Romero of WB and ADB respectively.
National Inter-Agency Program Implementation Team (NIAPIT) representatives namely Rizalde Mediavillo, Oscar Victor Lizardo, and Arvin Chua also participated the mission.
The workers of the national and regional program management headed by Kalahi-CIDSS deputy national manager Alex Glova and regional program manager Mita Lim respectively escorted the visitors during the visit.
Kalahi-CIDSS is an anti-poverty program of the national government implemented by the DSWD. It is funded by the World Bank and Asian Development Bank. ###(Social Marketing Unit/DSWD Field Office Caraga)