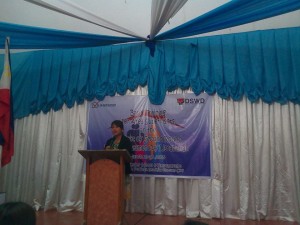 Butuan City – Some 1,577 newly-hired field workers are currently trained by the Listahan project of the Department of Social Welfare and Development (DSWD)-Caraga for the 2nd round family assessment.
The said staff will be equipped through various capability trainings as area coordinators, area supervisors, enumerators, encoders, and verifiers for them to gather correct, accurate, and credible database of the poor families in Caraga.
In her inspirational message, Regional Director Minda B. Brigoli stressed the importance of the functions and responsibilities in the nationwide 2nd round family assessment.
"Welcome to DSWD family. Each of you is a hero of this historical event. Your output will determine the socio-economic of every Caraganons who will be identified poor, Brigoli said.
"Be serious in this endeavor, work with all honesty and commit your heart because their future lies in your hands" she added.
The purpose of this assessment is to update the database of poor families and also to provide a high-quality data to help our partners like the national government agencies and other stakeholders as basis for their social protection programs and services.