Water has been the main problem of the residents of Brgy.Magsaysay in the municipality of General Luna, province of Surigao del Norte.
Since time immemorial, residents had problems on enough water supply for their daily activities. Some of them would go hiking for 3 kilometers to Sitio Dao, a far-flung sitio in their village, just to fetch water. Sadly, it was the only water pump of the community and it would sometimes dry up due to drought and many users.
While other residents pay P10.00 per container delivered from neighboring barangays, others wake up early at three o'clock in the morning or walk late at seven to nine o'clock in the evening and go to Brgy. Tawin-tawin and fetch water from their two deep wells. Those households who could afford to buy distilled and/or mineral water would go to the Poblacion barangays or in the nearest municipality, Dapa for instance, to buy water for their daily consumptions.
With the coming of the Kalahi-CIDSS program to their municipality, they were given new hope to survive with their current problems.
Kalahi-CIDSS, which stands for Kapit-Bisig Laban sa Kahirapan- Comprehensive and Integrated Delivery of Social Services, is an anti-poverty program of the Department of Social Welfare and Development (DSWD) which aims to empower local communities, improve local governance, and reduce poverty.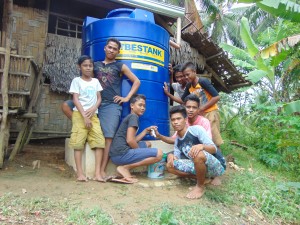 "I was so happy then, when I heard from my neighbor that DSWD will be helping our community through the Kalahi-CIDSS. When we had our first community assembly, we unitedly declared to propose a project that would help us on our water supply needs." reiterates Tatay Erlindo Sulapas, a 69-year old resident of the barangay.
As a poverty-reduction program, Kalahi-CIDSS uses the Community-Driven Development (CDD) approach of which community residents are consulted to identify and choose sub-projects to be implemented to address their needs in terms of basic social services.
"We first suggested a water reservoir sub-project but the grant allocated to us cannot suffice to finance it. However, we also had a problem on the source of water supply, thus, we opted to propose rain water collectors," he adds.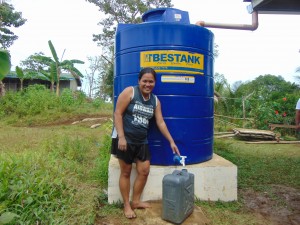 The 90 percent participation rate of the community during barangay assemblies and the eagerness of the community volunteers to join during empowerment trainings and seminar were great indicators that the barangay's need for a water supply is of priority. Thus, when their proposal was approved by the regional and national management of DSWD, great was the joy felt by the residents.
"When Janeth Moreno, the community empowerment facilitator assigned in our barangay, said that the water tanks are about to be delivered by the winning supplier, we had a barangay meeting to have a bayanihan system in carrying those water tanks from the warehouse building to the location sites. We also agreed that each household will be in-charge for the snacks of the laborers who were also residents of the barangay. We even agreed that we would buy additional gutter to collect more rain water drops from roofs because we were only given one (1) gutter every unit of tank," narrates Analyn Barso, a resident and community volunteer in Magsaysay.
"Mapasalamaton gajud ako na natagaan na kami nan Rain Water Collectors nan Kalahi-CIDSS kay nagamjan an amo problema sa tubig labi na kuman na tig init na (I am so thankful that we were given Rain Water Collectors by Kalahi-CIDSS because our problem with water supply are minimized especially now that it is summer season)," Analyn merrily shares.
Now that the 19 rain water collectors were already installed, residents were happy to have a mini-reservoir shared by four to five households per one rain water collector which was a great help on their water supply needs.
"Yesterday evening, it rained hard and we have collected almost half of the rain water collector. I was happy because I will no longer walk 30 minutes to Sitio Dao to fetch water," Jun-Jun, a 10 year old boy, cheerfully shares.
"We can now store the water we bought downtown because we can already use the rain water collector and save some money. We can divert that expense instead to our food and our children's needs," expresses Tatay Lindo.
As the water pours from the rain collector containers, each villager in Magsaysay is reminded that development in a community can be achieved when empowered community volunteers and residents work hand in hand in achieving their longed dreams and desires. #(RANIEL JOHN A. SAMPIANO/EUNICE G. MONTAOS/Social Marketing Unit/DSWD Field Office Caraga)