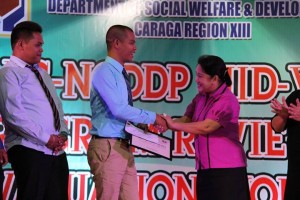 Butuan City – The Department of Social Welfare and Development (DSWD)Caraga conducted its Mid-Year Program Review and Evaluation Workshop (PREW) for the Kapit-Bisig Laban sa Kahirapan Comprehensive and Integrated Delivery of Social Services (Kalahi-CIDSS) program held at Dotties Place, Butuan City last August 4, 2015.
The activity, which was attended by the regional field and sub/regional staff, underlined the successful implementation and operation of the program in the region.
Ramil Taculod, Regional Program Coordinator, welcomed all the participants, who were dressed in their corporate attires, to the activity.  Edward John Ty, Regional Monitoring and Evaluation Specialist, then presented the 1st semester consolidated regional accomplishment report, which was applauded by everyone for being excellent in all categories.
Just recently, DSWD Caraga garnered four (4) major awards during the Kalahi-CIDSS National PREW. Caraga received the following awards: best Payapa at Masaganang Pamayanan (PAMANA) 2014 implementation, best Bottom-Up Budgeting (BUB) implementation in 2013-2014, highest community grants disbursement in medium category (1st Semester 2015), and over-all highest community grants disbursement for the 1st Semester 2015 (across all categories).
Regional Director Minda Brigoli, personally extended her appreciation to all Kalahi-CIDSS regional and field workers, acknowledging their efforts and sacrifices. "These achievements and accomplishments would not have been possible if not for your strong and steadfast commitment. Sa atin lahat ang mga awards  na ito," she said.
Highpoint of the said activity was the awarding of excellent, performing Area Coordinating Teams (ACTs) and individuals who have executed remarkable efforts in their different fields, enabling the Region to surpass its disbursement target for the first half of CY2015 with its 103% disbursement rate accomplishment.
Among those awarded were the ACT of Libjo – Best to Download Request for Fund Release and Best in Finance Unit (large category), ACT of Carmen – 1st to Complete a Sub-Project and Best in Finance Unit (small category), ACT of San Isidro – First with Sub-Project Implementation 100% Completed, ACT of San Miguel – Best to Complete PAMANA Sub-Project Implementation in 2014, ACT of Pilar – Best in Finance Unit (medium category), ACT of Esperanza – Best in Fund Utilization, and ACT of Burgos –Highest Participation Rate for Barangay Assembly.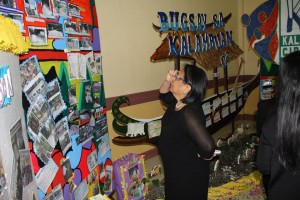 Distinct awards were also handed to individual performers. Best Area Coordinator Award was given to Sherlyn Sugian of Marihatag, , Best Deputy Area Coordinator was given to Engr. Reyjan Von Parreno of San Isidro, Best Municipal Financial Analyst to Shielou Bunani of Pilar, and Best Community Empowerment Facilitator to Ednilyn Grace Genite of Veruela.
The different cluster areas also prepared gallery and video presentations for their best practices and success stories in the field. Special awards were presented to Cluster 2 for having Best Gallery and Cluster 1 for Best Video Presentation. Prizes were also handed to individuals who participated in the trivia contest (questions based on the program implementation) prepared by Regional Community Development Specialist Elsa Montemor.
To further provide quality service to the beneficiaries and stakeholders of the program, Deputy Regional Program Manager Ester Villamor gave the 2nd semester regional directives and targets/deliverables. This was to ensure that all ACTs and sub/regional workers stay on course in achieving the goals of the program.
Assistant Regional Director for Operations Mita Lim also extended her gratitude in her closing speech, and encouraged the regional and field staffs to maintain the level of excellence for the remainder of the year. She reminded everyone to stick to the directives of the region to get through different hurdles along the way and accomplish all targets in all Kalahi-CIDSS modalities.
The Kalahi-CIDSS program of DSWD Caraga is currently implementing four (4) modalities namely:  NCDDP, PAMANA, BUB, and DFAT. Through the program, municipalities are availing community funds that will address their most pressing needs, empowering communities, promoting improved local governance, and alleviating poverty in poor and marginalized groups. # (Social Marketing Unit/DSWD Field Office Caraga)