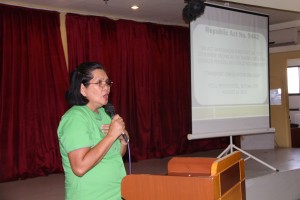 Butuan City- The Department of Social Welfare (DSWD)-Caraga met  with the Butuan City Transport group on August 24,2015 at Prince Hotel, this city to dialogue about Republic Act 9442 or the Magna Carta for Persons with Disability (PWDs).
Transport groups who attended include the representatives from the bachelor (bus), multicab, jeep, van, and motor associations.
Wilma Geralla, social welfare officer and sectors focal person, said that the activity intends to promote the rights and welfare of the PWDs, including the senior citizens, most especially in availing their privileges in transportation.
"We would like to remind the Transport groups that our PWDs and senior citizens are entitled with the 20% discount privileges," Geralla quipped.
"Furthermore, we are reminding the group about their responsibility to post "PWD" sticker signage in the public utility vehicles (PUVs)," she added.
Some members of the PWD and senior citizens sectors were also able to express their issues and concerns to the Transport groups through the open forum facilitated.
It has been an observation by some officers of the PWD associations that several PUVs are not complying in this requirement.
Butuan City PWD sector president Marietta Jandayan shared to the group her experience of riding a bus which did not adhere to the policy for PWDs' accessibility privilege. The case and issue was already reported to the concerned individuals and to DOTC.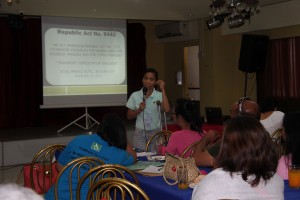 Though the driver and conductor explained that they were not informed on the said law, Jandayan quoted the adage, "Ignorance of the law excuses no one".
Department of Transportation and Communication regional director Roman M. Jumawan who personally graced the dialogue expressed his agency's strong support to the rights and privileges of the PWDs.
"All PUVs are required to post stickers printed "Reserved for PWD". The stickers are to be placed in the accessible areas in the vehicles. The drivers who are not compliant in this policy will be sanctioned. The transport sectors are aware about this since we regularly meet them every month." Jumawan said during his message.
Department of Trade and Industry staff Fritzie Rose Gulle and DOTC representative Atty. Edivee Subla discussed on the Joint Administrative Order No.1 Series of 2013 and Gender and Development (GAD) respectively.
The said discussions were conducted to orient the sectors on the different issuance of guidelines and memorandum circulars of DOTC and DTI.
The Section 4 of RA 9442 clearly states that it is the objective of Republic Act No. 9442 to provide persons with disability, the opportunity to participate fully into the mainstream of society by granting them at least twenty percent (20%) discount in all basic services. It is a declared policy of RA 7277 that persons with disability are part of Philippine society, and thus the State shall give full support to the improvement of their total well-being and their integration into the mainstream of society. They have the same rights as other people to take their proper place in society. They should be able to live freely and as independently as possible. This must be the concern of everyone    the family, community and all government and non-government organizations. Rights of persons with disability must never be perceived as welfare services. Prohibitions on verbal, non-verbal ridicule and vilification against persons with disability shall always be observed at all times. ###(Social Marketing Unit/DSWD Field Office Caraga)