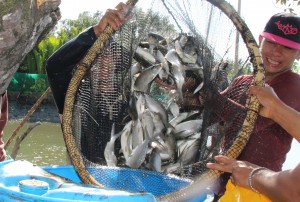 Surigao del Norte– The program participants of the Sustainable Livelihood Program (SLP) in the municipality of Gigaquit, Surigao del Norte harvested on August 19-20, 2015 around 2,000 kilograms of milkfish, bangus in local dialect.
The bangus production is one of their livelihood projects initiated by Pantawid Pamilya partner-beneficiaries, assisted by the SLP of the Department of Social Welfare and Development (DSWD).
The 220 members of the Gigaquit SKA Association Incorporated were all excited as they harvested bags/sacks of milkfish from their one (1)-hectare fish pond, rented for only P10,000/year from a private owner.
SLP regional coordinator Roy R. Serdeńa said that the bangus production project is just one of the several business ventures of the federation. "They also operate other livelihood projects such as poultry, hog raising, grocery store, and others," he added.
Serdeńa also disclosed that with the harvest, the federation is expecting to generate a gross income amounting to P200,000.00 or more. "During their first harvest last March 2015, they were able to harvest around 1,200 kilograms of bangus, and at this time that harvest will be doubled," he said.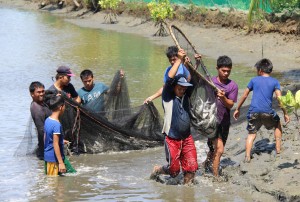 The said livelihood project was also able to provide employment opportunities to other Pantawid Pamilya partner-beneficiaries in Gigaquit who were hired for the operations and maintenance of the fish pond. Some out-of-school youths were also hired for the two-day harvest.
Catering SEA-K associations from the nearby municipalities in Gigaquit such as Santiago, Jabonga, Bacuag, and others ordered/bought the hundreds of kilos of fresh milkfish at a lower price.
The regional management has also linked the federation to several hotels and restaurants in Butuan City as costumers.
Other Program recipients bought kilos of milkfish at cheaper price which is P100/kilo, which they sell to the market at P140/kilo. With this, they get an additional income of P1,400 in just a day after buying 10 kilos direct from the livelihood project site.
In a quick interview, 46-year old Alfreda E. Verano, active member of the federation, shared her joy of their fruitful harvest. "Kalipayi gajud namu nga hamok amo harvest kuman, nakita na gajud namu ang amo paghago ug sakripisyo sa pila ka buyan (We are very happy that we have many harvest today; we get to see our hard work and sacrifices for how many months)," says  Alfreda.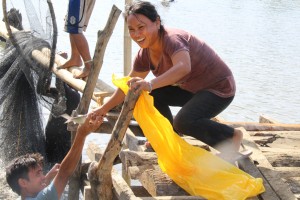 "Pinaagi sa among makita aning bangus, madungagan na pud ang among pondo sa federation (With our income in selling these sacks/bags of milkfish, our federation fund will be increased)," she added.
SLP is a community-based capacity building program which aims to increase the economic opportunities for Pantawid Pamilya partner-beneficiaries through the different modalities it offers such as skills training, seed capital fund, pre-employment assistance fund, and cash for building livelihood assets. The program uses the CDED approach or the Community-Driven Enterprise Development which equips program participants to actively contribute to production and labor markets by looking at available resources and accessible markets. ###(Social Marketing Unit/DSWD Field Office Caraga)