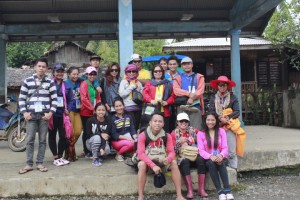 Each day we make choices about what path to take.  Some people live for a fortune but some people live to give and to share their blessings to others.
In a far-flung areas sitio Tumalog, Brgy. Zillovia, Talacogon, Agusan del Sur and sitio Binicalan, San Luis, Agusan del Sur, there is a man who stands, fights, and protects his people and they call him Datu. Sitio Tumalog and sitio Binicalan are among the Geographically Isolated and Disadvantaged Areas (GIDA) in Caraga region. The area is 55 kilometers far from the municipalities of Talacogon and San Luis, Agusan del Sur. Banwaon, Manobo, and Talaandig are the tribes living in this land.
One afternoon in mid-August 2015, the team from Listahanan project of the Department of Social Welfare and Development (DSWD) headed by regional field coordinator Aldie Mae A. Andoy, together with the team of area coordinator Rodolfo Ledesma, walked together for one purpose and goal.
Walking and riding, Up and down the hills, rain or shine, the team fiercely faced the fears hitting the very rocky road and crossing the superb water flow of the river called Tagbulakan km. 41, Brgy. Mahayahay, San Luis and the river km.44 Adgawan, sitio Tambo, Binicalan, San Luis, Agusan del Sur, which you have to ride a "Gaquit" or bamboo boat to cross. The fare costs Php 600.
The everyday living of the IPs in this land is simple yet difficult. The food and other commodities are very expensive especially the fare which cost Php 2,500 one (1) way.
At night, IPs use lampara to light their small nipa houses.  As early as 3:00 a.m. the residents are now going to their farm which is 3 kilometers far from their homes. Fathers and older siblings in the house are away from their families for 3 to 4 days to plant crops like sweet potatoes.
Taking risks without hesitation, the team of area supervisor Kemo Tito extended their helping hands to assess the Indigenous People (IP) living in sitio Mentosing. They were guided by the Datu of Mentosing who is Datu Ginlabuan Siguro. This sitio is very far from the civilization. It will take a one day walk passing rough roads, forest, and river. Nonetheless, the team assessed a total of 21 households.
The team assessed a total of 100 households 60 households for sitio Tumalog, 19 households in sitio Binicalan which are all call-backs, and 21 households in sitio Mentosing.
Deputy Regional Project Manager of Listahanan Nerisa T. Murih said that
in the 2nd round family assessment, the project really prioritizes the IPs living in GIDA areas for them to benefit programs and services in the future. "We really assure that no one and no family will be left behind, said Murih.
Listahanan is a national government project implemented by the DSWD. It is an information management system that aims to establish a reliable database of poor families to be prioritized in the delivery of social protection programs and services of the Government.