"If we are to achieve a richer culture, we must weave one in which each diverse human gift will find a fitting place." Margaret Meade
In a society where appearance is given more significance than character, being a person with disability limits the society from seeing the uniqueness of a person, rather, it draws a gap between those who are physically challenged and handicapped versus those who are seamless. This dilemma has caused the society to move forward, to progress, in a much slower pace, undermining the contributions of the persons with disability which could have made the difference.
The experience of being different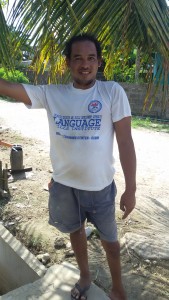 Marlou P. Daytoc, a resident of San Roque, Tubajon, Province of Dinagat Island, relates to this reality. Marlou suffers from polio, an infectious viral disease that causes flaccid paralysis, leading to underdevelopment of limbs/body parts. Marlou's case affected his left leg, impeding normal muscle growth of his leg, leaving it smaller and weaker than his right leg.
Marlou could not remember how it happened, since he was still a toddler when he got sick, but he remembers being an outcast growing up, and bullied by friends and classmates.
"Sige ko nila tawagon ug pi-ang, kimpang. Pero naanad nako kay sugod sa bata pa ko, amo naman ilang i-saway sa ako. (Ever since I was a kid, they used to call me limp. But I got used to it because I have been bullied about my condition.)" Marlou said.
Marlou was used to being the odd-man-out. His classmates and neighbors would not let him be part of their games, especially if it required running and jumping. He was shoved onto the sidelines, which often times led him to imagine, how it would feel to be normal.
"Niabot ang panahon nga daghan pangutana sa akong huna-huna. Pero akong mama ug papa mag sige ug sulti nako nga maski ingani akong kondisyon, daghan espesyal nga kaya nako buhaton. (I used to have a lot of questions in my mind about why I am in this condition. But my mother and father always reminded me that even if I was different, I was blessed with special capabilities.)" he said.
Mr. and Mrs. Maximo Daytoc, Sr. tried raising Marlou as normal as possible. But the people around them made Marlou doubt of his capabilities, even making him insecure at time. Manong Maximo shared that there were instances that Marlou would choose not to join activities in school and in their community.
"Niabot ang panahon nga dili na na siya ganahan moapil sa mga kalihokan adtong medyo bata-bata pa siya. Mas mopili pa sya nga dri ra magstambay sa balay (There came a time when he would rather stay at home than go out and be with people during his teens.)", Manong Maximo said.
Nevertheless he never stopped from encouraging his son to include himself from what normal people do. He and his wife made sure that as Marlou was growing older, so would his sense of self-worth.
Lahi ang Kalahi (Kalahi is different)
One day, the Kapit-Bisig Laban sa Kahirapan- Comprehensive and Integrated Delivery of Social Services (Kalahi-CIDSS) program was introduced to Marlou. The program was quite new to him, but he was familiar with the sub-projects which were implemented by his co-members of the community.
He knew Kalahi-CIDSS encouraged people in the community to take part with the decision making and identification and prioritization of needs in their locality, even utilizing community volunteers to actively work in sub-project implementation. But even so, he has already conditioned his mind that he could never be part of such an endeavor with his condition.
But when he was able to attend one of the barangay assemblies, he was amazed that even senior citizens and women were encouraged to be part of the project. During the activity, members of the Area Coordinating Team (ACT) discussed the importance of an inclusive approach in the decision making and implementation of the project. He was even encouraged to be part of the implementation even with his condition; something that boosted his self-confidence.
"Giapil nila ang mga tigulang sa proyekto. Maski kababayinhan pwede kuno motrabaho ug sweldohan. Ila pud ko giapil ug imbitar, mao na nga mahatagan ko ug ideya nga motrabaho kay total, kani nga proyekto kay para man gihapon sa amo. (They had senior citizens and women working for the project. They hired and paid even women who worked for the project. When they invited me, without any hesitation, I agreed because I knew it will be our community who would benefit from the project.)" he said.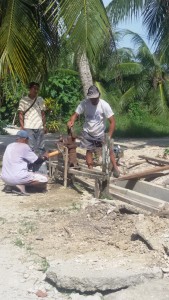 Marlou started working as one of the paid laborers for the construction of the 230 linear meters drainage canal with cover in barangay San Roque. The members of the community, barangay officials, and the field staff of the Kalahi-CIDSS are all praises for his determination, even sharing that he is always punctual and diligent with his work. Marlou has showed that his being different would not be a hindrance for him to perform at par with able-bodied workers.
"Ang akong mama nalipay na gepatrabaho ko sa Kalahi kay bisan ug ing-ani akong sitwasyon, gedawat gihapon ko isip laborer (My mother was very glad that Kalahi gave me the opportunity to be part of the project, even with the condition I have)," Marlou shared.
Since Marlou started working in the sub-project, he can be constantly seen having that confident smile at work. His neighbors noticed that he was now more open to dealing with people in their community, hanging out with the other Kalahi-CIDSS community volunteers in their barangay. A far cry from the Marlou who was aloof, and insecure because of his condition.
Kalahi-CIDSS believes that for a community to grow, it has to be inclusive; everyone has an opportunity to be the answer to their most pressing needs. This is why Kalahi-CIDSS encourages everyone in the community and all partner stakeholders to be part of the sub-project implementation. No one is differently-abled to Kalahi-CIDSS. Even the most unique of people has that special gift to make a difference.   ###(Social Marketing Unit/DSWD Field Office Caraga)