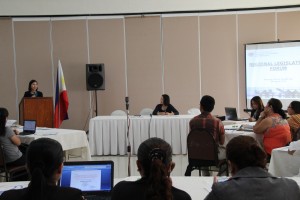 Butuan City – Representatives and selected staff of the congress persons in Caraga attended the Legislators' Dialogue, an activity initiated by the Department of Social  Welfare and Development (DSWD)-Caraga on August 28, 2015 held  at Samping Avenue, this city.
Nerisa T. Murih, assistant regional director for administration, said in her opening message that the dialogue intends to apprise the region's legislators on the accomplishments of the social protection programs and services implementation of the Department in Caraga.
"As we acknowledge the crucial roles of the legislators in the implementation of DSWD's programs and services, we also wish to dialogue about relevant issues and concerns and come up with resolutions to better our service," said Murih.
"Through this activity, we look forward to gain and maintain the active support of the congress persons to DSWD to reach and aid more poor, marginalized, vulnerable, and disadvantaged sectors," she added.
Other attendees of the dialogue are the regional/provincial program focal persons and provincial action team (PAT) leaders.
Along the one-day activity, planning officer Jean Paul Parajes disclosed the physical and financial accomplishments of the DSWD's core programs as of the end of August 2015.
Furthermore, regional program coordinator Roy Serdena of the Sustainable Livelihood Program (SLP) discussed about the Partnership Building for Livelihood Assistance (PaBuLSA) for the Poor project as a strong and effective mechanism in increasing the socio-economic capacities of the Pantawid Pamilyang Pilipino Program partner-beneficiaries.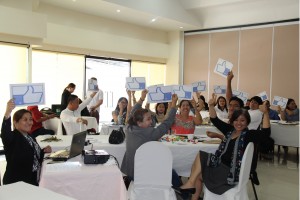 The Pep Talk methodology was used by training specialist Glezza Ty, event host, in facilitating discussions. The participants were grouped and asked to discuss and answer the question on how the DSWD and legislators could strengthen partnership for a more effective and efficient delivery of quality social protection programs and services in Caraga region.
Drawn out from the discussions are the following: regular submission of accomplishment reports by all DSWD programs to the Offices of the Congressional Districts on a quarterly basis; PAT cum Legislators' Consultation meeting (quarterly) in order to address issues and concerns and plans to best implement programs and projects; documentation of good practices on partnership for replication; and strengthen partnership with legislators through attendance to program review and evaluation workshop (PREW), program implementation review (PIR), inter-agency meetings, etc. to ensure continuity and to ensure that they can address concerns immediately.
Analiza Navia, OIC-regional program coordinator of Pantawid Pamilya, also shared about the proposed bill for the institutionalization of the Conditional Cash Transfer (CCT).
Angelita Amista, Policy and Plans Division chief, expressed thanks to the attendees and highlighted in her closing message the importance of the support of the legislators especially that the budget hearing is upcoming.
Meanwhile, the Social Marketing Unit (SMU) shared and distributed DSWD advocacy videos and IEC materials to the participants. The unit also sought the support of partners and stakeholders on the Kaya Ko ang Pagbabago campaign of the Department.
The DSWD is a national government agency who missions to develop, implement and coordinate social protection and poverty reduction solutions for and with the poor, vulnerable and disadvantaged. ###(Social Marketing Unit/DSWD Field Office Caraga)